Amgen Market Value Playing Catch-Up to Shares: Chart of the Day
David Wilson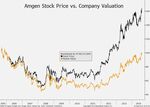 Amgen's shares climbed to a record yesterday, as they have done repeatedly since October 2012. Yet the market value of the world's largest biotechnology company by revenue failed to follow suit.
The CHART OF THE DAY illustrates the disparity by tracking Amgen's stock price and market capitalization since September 2005, when the latter peaked at $106.3 billion, according to data compiled by Bloomberg.
Amgen fell below the $100 billion threshold later in 2005 and stayed there until yesterday, when shares of the Thousand Oaks, California-based company advanced 3.5 percent. The rally lifted its market cap to $100.2 billion.
While the closing price surpassed the stock's September 2005 high by 52 percent, Amgen's history of share repurchases explains why the market-value record still stands. Since the fourth quarter of 2005, the company spent $31.4 billion on buybacks, according to data compiled by Bloomberg.
Amgen last bought back stock in the first quarter of 2013. While the company has $1.6 billion remaining under its current repurchase program, it said a year ago that no "significant" outlays were planned for this year or next.
The shares closed yesterday at $131.86 after rebounding from initial losses, related to the failure of the blood-cancer treatment Kyprolis to meet the primary goal of a study. Amgen's release of the data was a "clearing event," according to Mark Schoenebaum, a New York-based analyst at ISI Group LLC. Another study, released last week, produced more favorable results.
Before it's here, it's on the Bloomberg Terminal.
LEARN MORE