Zuckerberg's Snapchat Envy Isn't Disappearing
By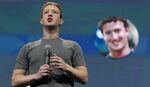 First, Facebook tried to clone Snapchat. Then, Facebook tried to buy Snapchat. When that failed, Facebook tried again to copy the success of the photo-messaging app — three more times.
Mark Zuckerberg's Snapchat envy shows no signs of abating. Facebook's various photo-messaging apps and add-ons haven't managed to replicate Snapchat's popularity for any extended period of time, according to data from researcher App Annie. However, the latest attempt, a limited geographic release of an Instagram offshoot called Bolt, so far looks to be the most promising.
The allure of Snapchat is hard to ignore. The disappearing photo messenger is the third-most popular social media app among millennials in the U.S., behind only Facebook's main program and its Instagram app, according to research firm ComScore. Snapchat was in talks with China's Alibaba Group for an investment valuing the Venice, California, startup at $10 billion, though the talks have ended, Bloomberg News reported.
While Facebook declined to comment, Zuckerberg has demonstrated he's willing to spend in order to satisfy his photo-messaging obsession. The company offered to acquire Snapchat for $3 billion last year before being spurned. Since then, Facebook has dedicated development time and precious public attention to apps that haven't gained major long-term traction. Although the picture-messaging programs benefit from the attention that accompanies any new Facebook product with a debut high on the App Store charts, they quickly fizzle. (The data represent download volume on a particular day, not the absolute number of users.)
"The blatant attempts to directly compete with fast-moving apps like Snapchat is maybe not the best for public relations," says Brian Solis, an analyst at research firm Altimeter Group. "It sends a signal that there's an inability to see what's next or an inability to innovate. It's starting to look a wee-bit desperate."
Facebook's first go at Snapchat was with an app called Poke. Released in December 2012, Poke replicated Snapchat's main functions, replete with photos, video, doodling and a customizable self-destruct timer. It even went beyond with features such as location sharing, text messaging and Facebook friend lists. TechCrunch reported that Zuckerberg himself programmed parts of the app and lent his voice to the "poke" notification sound. Poke had a decent run on the App Store for a couple of months, but then it abruptly fell out of the top charts for good, App Annie data show.

In January, Zuckerberg told Bloomberg Businessweek that Poke was "more of a joke. A few people built it as a hackathon thing, and we made one release and then just kind of abandoned it and haven't touched it since." If nothing else, the company probably gleaned some insight about what mobile users want, which could improve its other work, says Solis. Facebook killed Poke in May.
The next month, Facebook released Slingshot, an app for sending disappearing photos and videos that can be decorated with drawings. There's a small twist: Users are required to send a picture before they can view something they've received, a stipulation designed to encourage ongoing exchange. Slingshot catapulted briefly and then drifted out of the charts, according to App Annie data. It's only been two months, but Slingshot hasn't been a direct hit. After about a week of testing the waters in the U.S., the app was released internationally, where its trajectory has been similar.

Under Facebook, Instagram added photo messaging to its app in December. Researchers can't track the feature's usage, but Solis says Instagram Direct probably isn't widely used because most people don't think to go to the app for messaging or aren't aware of the option. Facebook says 45 million Instagram users are "actively sending or opening direct messages." The Instagram team took another run at it on July 29 with the introduction of Bolt. The standalone app, which isn't available yet in the U.S., was launched in just three countries — New Zealand, Singapore and South Africa. Bolt is actually doing quite well in those places, according to data compiled by Bloomberg. Its average ranking currently exceeds Snapchat's. The test is limited to a few countries over the course of two weeks, but the data suggest Facebook's relentlessness could finally start to have an impact.