The Global Tug of War Over Government Bonds
by
Germany has just joined an elite club. It's now one of only three nations whose 10-year government bonds yield less than 1 percent.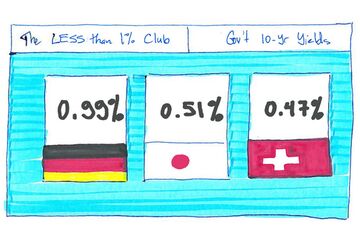 The German statistical office in Weisbaden reported preliminary gross domestic product contracted 0.2% during the second quarter, Germany's first sequential decline since early 2013. The downbeat data follow a similar assessment for Italy's economy and a French report indicating stagnation. In the absence of growth, coupled with an elevated stock valuation for Germany's DAX Index of 17.3 times earnings, European investors are clearly parking money into government Bunds.
The sub-one percent return on German bunds stands in stark contrast to yields available on the 10-year U.S. Treasury Note.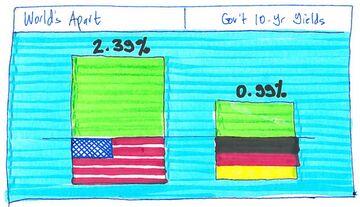 This yield differential creates a conundrum for investors according to Ira Jersey, director of U.S. rates strategy at Credit Suisse Securities. He outlined the current tug-of-war driving government bond markets on Surveillance this morning: While U.S. inflation has recently risen to 2.1 percent (which should force U.S. yields higher), the Bund may actually pull U.S. yields lower in the near term because the relationship between the two has become so stretched.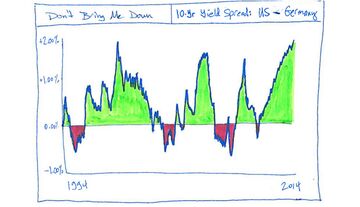 He argues that capital is global, and the search for return does not discriminate across G-20 countries. With German rates so low, money that would have continued flowing into Bunds is now flowing into the U.S. 10-year, pushing U.S. yields lower in the process.
Though he believes higher inflation will ultimately force U.S. yields towards his 3.00 percent year-end target, Mr. Jersey says U.S. yields could fall to 2.25 percent over the next several weeks.
In trading, as in life, timing is everything.
Before it's here, it's on the Bloomberg Terminal.
LEARN MORE