An Improbable Superpower: Guardians of the Galaxy Sells 1970s Music
By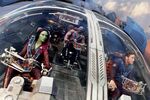 Marvel Entertainment has proven that the Guardians of the Galaxy, a once-obscure team of superheroes, can sell movie tickets. It turns out they can sell records, too. The movie's soundtrack was the No. 1 record on the Billboard 200 last week.
Or perhaps it might be more accurate to say Marvel can sell mixtapes. The Guardians of the Galaxy soundtrack has a picture on the cover of Awesome Mix Vol. 1. As anybody who has seen the film knows, this is the cassette compilation Star-Lord's mom thrusts into her young son's hands (spoiler alert) just before she dies during the movie's dramatic opening.
Star-Lord, charmingly portrayed by Chris Pratt from NBC's Parks and Recreation, spends much of the film traveling through space and listening to other tapes prepared by his mother featuring her favorite 1970s hits—Redbone's Come and Get Your Love, Blue Swede's Hooked on a Feeling, Elvin Bishop's Fooled Around and Fell in Love, 10cc's I'm Not in Love, David Bowie's particularly resonant Moonage Daydream—on a vintage Walkman. He doesn't actually get around to listening to Awesome Mix Vol. 1 until he's kicking back in his spaceship after numerous adventures and the formation of the Guardians. The mixtape plays as the capstone to the origin story of Marvel's newest bankable franchise.
It turns out some of the kitschiest songs of the Seventies sound surprisingly fresh to today's listeners:
The soundtrack's triumph also underscores the whimsical appeal of Guardians of the Galaxy. It's Marvel's most tongue-in-cheek movie yet. There's none of the political angst or alcoholism-related darkness pervading the studio's more recent movies, such as Captain American: The Winter Soldier or the more heavy metal-friendly Iron Man 3. Yesterday's guilty pleasures like Come and Get Your Love are perfect for Marvel's latest hit.
There's already a Guardians sequel in the works, but it may not include another hit soundtrack album. The film's director, James Gunn, told Billboard that he will not emphasize Star-Lord's cassette-tape listening in future movies. A sequel, he said, "may not have the music playing in the same exact way as the first one."
Before it's here, it's on the Bloomberg Terminal.
LEARN MORE