Forget Vertical Farms, This Is a Vertical Rice Paddy/Fish Nursery/Transit Center/Nuclear Plant
No sustainable detail is left out of this proposed Hong Kong skyscraper.
By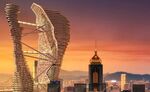 In the surreal future envisioned by Studio Cachoua Torres Camilletti, your rice and fish will not come from the land and sea, but from the sky. They've whipped up plans for a monstrous skyscraper that would grow both these staple foods, as well as harvest wind energy, provide mass transit, filter gray water, and about 100 other things.
The Mexico City-based firm's extremely mixed-used building—now on the shortlist at the 2014 World Architecture Festival—is composed of of a pair of twisted towers that seem to want to attack each other. They're prevented from doing so, thankfully, by struts and bridges protruding in a tangled network from their bodies. One tower's side is a huge sheet of glass, the other's a green wall dripping with flowers. And of course there are those rice paddies up on the roof, which the architects say were chosen for this reason:
rice terraces have an important semiotic and symbolic significance in the culture of countries such as china and the philippines, and they are cultivated by the need to sow seeds vertically. throughout history, they have been carved by hand into mountains high above the sea as emphasized contours with built-in irrigation systems. in addition to the formal beauty of these spaces, they are a living example of the respectful change of nature by humans, who do not pose any environmental aggression, and are ultimately both respectful of nature and of man. studio CTC finds such richness of the meanings and interactions that it was decided that rice should be the crop of choice for the skyscraper.
Aside from the agricultural facilities and fish farms, the towers would also provide space for offices, housing, and "lifestyle amenities." But that's boring. Let's turn back to all the sustainable details included in the crazy, full schematic: recycling center. "Algae facade." Train or bus system inside at least one of the bridges. A dozen-or-so wind turbines. And naturally, the whole structure would run on an (arguably not-green) nuclear plant in the underground garage.
Gawk in wonder at this baby: