China Mobile Net Drops Fourth Straight Quarter on ost
Bloomberg News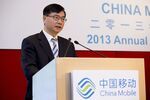 China Mobile Ltd. profit fell for a fourth straight quarter as the world's largest carrier by users spent more on promoting and enhancing high-speed data services.
Net income fell 7.8 percent from a year earlier to 32.5 billion yuan ($5.3 billion) in the second quarter, according to figures derived from six-month results the Beijing-based company reported today. That beat the 29 billion-yuan average of four analysts' estimates compiled by Bloomberg.
Chief Executive Officer Li Yue is investing in handset subsidies and equipment for fourth-generation services as part of a bet that smartphones including Apple Inc.'s will lure back users lost to rivals that offered the iPhone earlier. Costs for providing handsets at lower upfront prices will rise 29 percent to 34 billion yuan this year, according to the company.
Sales in the quarter rose less than 1 percent to 169.9 billion yuan, from 168.4 billion yuan a year earlier. That compared with the 165.5 billion-yuan average of five analysts' estimates.
China Mobile fell 0.6 percent to HK$86.80 at the midday break in Hong Kong trading. The shares have climbed 8 percent this year, compared with a 6.7 percent gain in the city's benchmark Hang Seng Index.
The carrier in December agreed to offer the iPhone after six years of negotiations with Cupertino, California-based Apple. To attract users, the carrier provides a subsidy that makes the handset itself cheaper for consumers.
Sales of the device started Jan. 17 at China Mobile shops.
China Mobile had 790.6 million subscribers at the end of June, the company said last month. That included 238.5 million users of 3G services, and 13.9 million on the 4G network.
The carrier's share of the nation's 1.27 billion wireless accounts was 62.4 percent at the end of June compared with 72 percent in October 2009, when rival China Unicom (Hong Kong) Ltd. introduced the iPhone.
Second-quarter results were also affected by the new value-added tax imposed June 1, and a reduction in connection fees from two smaller carriers.
— With assistance by Edmond Lococo
Before it's here, it's on the Bloomberg Terminal.
LEARN MORE