Virgin America Is No Longer a Union Virgin
By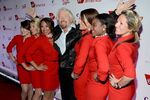 Flight attendants at Virgin America have voted to unionize after an earlier vote failed. The airline was the last major U.S. carrier without any collective bargaining arrangements, and the shift comes as Virgin America prepares to go public.
About 58 percent of Virgin America's 850 flight attendants supported joining the Transport Workers Union, according to results (pdf) released Wednesday by the National Mediation Board, which oversaw the voting. A similar TWU vote failed in late 2011.
"We respect the decision by our InFlight teammates to choose third-party representation, and we will continue to work to serve the best interests of all of our teammates and our airline as we move forward," Virgin America spokeswoman Jennifer Thomas said in an e-mailed statement. The airline is owned by Virgin Group founder Richard Branson, airline management, and the hedge fund Cyrus Capital Partners.
Last month, Virgin America filed regulatory papers to offer shares to the public, an offering that could come as early as this year. The union vote could potentially raise costs at the airline, which boasts that its cost structure, which is below rivals, gives it an operating advantage. Virgin America began flying in 2007.
Virgin America's cost per available seat mile, an industry metric that averages expenses across the total distance flown, was just under 12¢ in the first quarter, slightly lower than JetBlue's and a bit higher than Alaska Airlines', according to data compiled by Bloomberg Intelligence. The Big Four U.S. airlines, including Southwest, averaged more than 13¢ in the second quarter.
Virgin America isn't the only airline to undergo unionization this year. In April, JetBlue's 2,500 pilots voted to join the Air Line Pilots Association.