Why the State Fair of Texas Paid Its Top Exec $828,000
by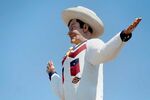 August is the month of the state fair in many parts of this agricultural nation, a time for livestock shows, barbecue cook-offs, and butter head sculpture. Lest you mistake the prizes your local 4-H is handing out as big money, consider this: Errol McKoy, the former president of the State Fair of Texas, made $827,904 in total compensation in 2012, according to IRS filings.
For that pay, which included salary, bonus, and retirement benefits, McKoy managed a three-week festival that included a car show, livestock exhibition, and musical performances. (The Texas fair starts in September.) About 3 million people attended, and the fair took in $41.7 million, mostly from admissions, parking, and concession sales. McKoy's total compensation included a $295,000 bonus.
The State Fair of Texas probably dwarfs most other states' annual agricultural festivals, which is one way its board has justified McKoy's salary. In 2010, the Texas state fair employed Ernst & Young to conduct a compensation study that found McKoy's pay within an acceptable range offered by comparable organizations, fair spokeswoman Karissa Schuler says.
In other words, the people who run state fairs can make pretty good money.
The president of the Oklahoma State Fair earned $295,422 in 2012 for running a fair with $18.8 million in revenue. The Maryland State Fair paid its top executive $267,869. Those were the highest salaries at state fairs run by stand-alone nonprofits in 2012. The Minnesota State Fair Foundation, a nonprofit that raises charitable contributions to support the festivities but doesn't administer the fair, paid its top exec $179,476 that year.
Because other fairs are run by state agencies, as part of nonprofits with larger missions, or by private companies, there's no single place to find data on state fair pay. The director of the 12-day New York State Fair made $123,913 in 2012, according to the government transparency website seethroughny.com.
Gathering data is also complicated by the waning popularity of state fairs in recent years. The Michigan State Fair closed in 2010 after a 160-year run. Nevada's state fair went on hiatus from 2011 to 2013 before returning this year. The president of the Virginia State Fair earned $234,131 in total compensation in 2010—the year before the nonprofit filed for bankruptcy.
Before it's here, it's on the Bloomberg Terminal.
LEARN MORE