Expect Bad News for U.S. Retail Stocks
by
Consumers aren't consuming, and it's a serious concern for anyone betting on U.S. economic growth.
Consumption accounts for 56 percent of gross domestic product, as Citigroup U.S. Equity Strategist Tobias Levkovich reminded as yesterday morning on Surveillance. Today, three separate data points reveal sluggish spending at the retail level.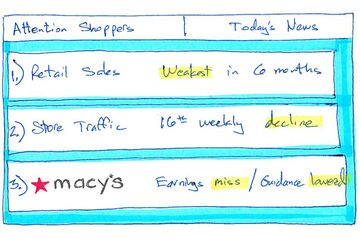 U.S. retail sales had risen each of the previous five months, so today's 0.0 percent result is disappointing. Even worse, the 3.6 percent decline in foot traffic, as measured by the ShopperTrak U.S.Retail Traffic Index, recorded a 16th weekly decline when compared to comparable weeks last year.
Any retail bulls betting on a rebound should take note: Three additional retailers will likely prove growth is hard to find, as they report earnings tomorrow. Based on consensus estimates tracked by Bloomberg, Kohl's Corporation (KSS) and Nordstrom, Inc. (JWN) are forecast to grow by low single digits, while Wal-Mart Stores, Inc. (WMT) could post its third annual decline in three quarters.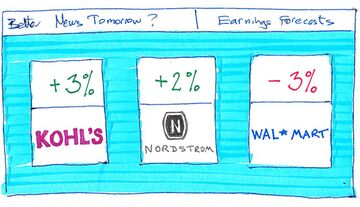 This morning on Surveillance, Wells Fargo Securities Senior Strategist Gina Martin Adams explained promotions are cutting into profitability.
"Falling margins overall for the discretionary sector and retail specifically are one thing to worry about in the grand scheme of things. And I do think that's impacting retailers. A lot of this comes from a transition to online shopping. Margins had been a big support for most earnings across the index."
Analysts have lowered earnings estimates during the past week on eight retailers scheduled to report results between now and Labor Day. If there's more bad news to come in the sector, we suspect these are the leading candidates.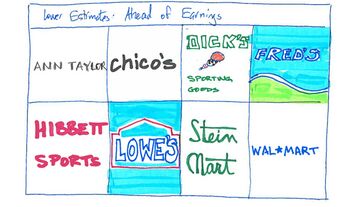 ANN INC. (ANN); Chico's FAS, Inc. (CHS); Dick's Sporting Goods, Inc. (DKS); Fred's, Inc. (FRED); Hibbett Sports Inc. (HIBB); Lowe's Companies, Inc. (LOW); Stein Mart, Inc. (SMRT); Wal-Mart Stores, Inc. (WMT).
Before it's here, it's on the Bloomberg Terminal.
LEARN MORE