Strip Clubs and Pot Dispensaries Need Loans, Too
by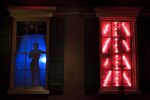 Sex sells for everything from sports cars to diet soda. Can it also help lenders pushing an expensive type of small business loan?
Today, a company called Sexy Business Funding posted a Web video advertisement in which a husky-voiced narrator named Ca$handra offers loans of as much as $750,000 while images of exotic dancers, jars of marijuana, and piles of hundred-dollar bills flash across the screen. The idea is to entice owners of strip clubs, pot dispensaries, tattoo shops, and other businesses that may scare off traditional Main Street lenders. "Sexy Business Funding recognizes adult businesses as legitimate, law-abiding companies that deserve the same borrowing opportunities as any other business from any other industry," the company said in a press release.
On first take, it sounds like smart business. Marijuana dispensaries, legal in some states but forbidden by federal law, have had a notoriously hard time finding financial firms willing to wade into the gray area. Regulatory constraints aside, a strip club or head shop might seem risky, or simply distasteful, to Main Street lenders. You may laugh at the company's name, but it appears to be addressing a real market: The company has provided $43 million in financing to 1,420 businesses, according to its website.
The ad campaign sounds more dicey with a little more context. Sexy Business Funding specializes in a kind of high-priced loan called a merchant cash advance, in which small business owners sell a portion of their future sales for an upfront payment. Alternative lenders, including merchant cash advance providers, loaned Main Street about $3 billion last year at annualized interest rates that can exceed 100 percent. Sexy Business Funding's website doesn't describe the rates it charges, but does say it approves 90 percent of applicants.
That suggests expensive rates. Alternative lenders seeking to drum up business already use independent brokers, who can earn large commissions for pushing high-cost loans, and aggressive tactics to push loan products. Employing a sexy ad campaign to proposition small business owners may be just the latest way to sugarcoat high-priced loans.
It's also unclear who's actually doing the lending. Calls to a telephone number listed on Sexy Business Funding's website were answered by sales representatives, and the address listed on the site is for a Miami Beach parking garage designed by prize-winning Swiss architects. One sales rep referred inquiries to an executive named Michael Fountain at Whetstone Holdings, but Fountain hasn't responded to e-mails seeking comment.
Small business loans of murky provenance aren't uncommon in alternative lending, says Marco Lucioni, vice president at a nonprofit lender called Opportunity Fund, which is marketing itself as a cheaper alternative for small business loans. "In our research we came across all kinds of crazy names of merchant advance companies, and we spent a lot of time figuring out who the real players were behind the dozens of aliases we found," Lucioni wrote in an e-mail.
Before it's here, it's on the Bloomberg Terminal.
LEARN MORE