SodaStream Wants Americans to Be Healthier (and Germans to Schlep Less)
By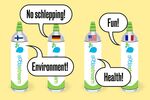 SodaStream hasn't compelled mainstream consumers to buy many do-it-yourself soda machines recently. Despite lowered prices, new product launches, and efforts to put the devices on more shelves, SodaStream sold less than half as many soda makers in the U.S. last quarter as a year ago. Sales in the Americas region slid 14 percent year on year after already falling 28 percent the quarter before that.
SodaStream's recent focus on value "has clearly not resonated with consumers," said Scott Guthrie, the company's general manager for the Americas, during an earnings call last month. "We have not provided a compelling reason to buy a SodaStream machine."
But SodaStream believes it has identified that reason, at least for Americans: health. The company previously marketed the at-home soda machine through a mix of environmental messages (less plastic waste) and convenience (no need to carry back heavy bottles from the supermarket), alongside claims of healthier living without sugary store-bought soda. "We believe at this point in our lifecycle that we must home in on the most compelling consumer benefit," said Guthrie.
That means marketing SodaStream differently around the world. In identifying what's most relevant in different markets, the company found wide variety. "In Germany, it's about schlepping," SodaStream's chief executive, Daniel Birnbaum, told analysts last month, "and in Finland, it's about environment, and in France, it's about fun and enjoyment. In the U.S., it is about health and wellness."
For the rest of the year, SodaStream will focus its North America marketing on its healthier, more natural, and less-caloric flavors. It is also developing new flavors with natural sweeteners, such as stevia and monk fruit.
Competitor Keurig's at-home soda machine, developed with Coca-Cola, is expected to be introduced sometime in October or thereafter. As SodaStream sees opportunity in offering an alternative to Big Soda, the Keurig-Coke partnership is betting that what will compel consumers to buy their machine will be the ability to make Coca-Cola's drinks at home.
But that doesn't mean SodaStream will have the healthy-yet-carbonated marketing niche to itself. As Bloomberg Businessweek reported in a recent cover story, Coke is also working to position itself as a guilt-free treat.
Before it's here, it's on the Bloomberg Terminal.
LEARN MORE