Ebola, Gaza Fears Prompt Colleges to Call Students Home
Kelly Blessing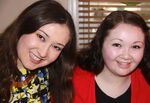 Jaclyn and Kelly Roache have something in common that most sisters don't. Both were evacuated in different years from the Middle East while studying abroad through their U.S. colleges.
Jaclyn, 19, a rising sophomore in Jerusalem this summer, flew out of Israel on July 23 at the behest of Northeastern University. Rewind 3 1/2 years when Princeton University ordered the evacuation of Kelly, now 24, and its other students from Cairo amid anti-government protests that turned violent.
"It was only a 12-hour period from the time we were told by our professor in the middle of the night that we were being evacuated to when we arrived at Tel Aviv airport," Jaclyn said by phone from Little Silver, New Jersey. "We were told that we didn't have class and to pack our stuff immediately."
U.S. colleges from New York University to Tuskegee University are canceling popular study-abroad programs and evacuating students in the wake of the Ebola health crisis, which has claimed about 1,000 lives in West Africa, and violence in Gaza, which has left more than 1,900 people dead.
More than 283,000 U.S. undergraduate and graduate students studied abroad in the 2011-2012 year, the most recent data available, up 84 percent since 2000-2001, according to the Institute of International Education in New York. The percentage of those choosing to study in the Middle East more than doubled in the period and grew by more than 50 percent for Africa.
NYU, Tuskegee
NYU won't be sending 10 students who were slated for Tel Aviv this fall, instead placing them in other cities where the school has sites or partners, such as London and Berlin, said spokesman Phil Lentz in an interview. NYU also postponed its fall program in Accra, Ghana, because of the Ebola crisis, he said. There have been no reported cases in that country.
The school's decision "was made less out of an immediate concern that students might contract the Ebola virus," said Carlo Ciotoli, NYU associate vice president for student health. "It was driven more by our concern about our ability to get students out of the country easily should the virus have spread."
Tuskegee University has six students stranded in Liberia, one of the West African countries hardest hit by the Ebola outbreak. They were originally scheduled to depart on Aug. 10, yet British Airways suspended flights in and out of Liberia and neighboring Sierra Leone until Aug. 31 because of the "deteriorating public health situation," the airline said.
The university made other arrangements and the students, who flew to Africa on June 29, are scheduled to leave from Accra on Aug. 18, the Alabama-based school said in a statement.
Managing Students
The conflict in Israel and Gaza escalated in early July when Israel began a military campaign with the stated aims of ending rocket fire and destroying dozens of tunnels Palestinian militants built to carry out cross-border raids.
Part of the challenge for universities is managing the activities of their students in foreign countries, said Gary Rhodes, director of the Center for Global Education at the University of California at Los Angeles.
"Universities will tell students to stay away from protests, but they see a chance to be an on-the-ground reporter for CNN," Rhodes said in a phone interview. "The university may tell them the most responsible thing to do, but, to them, that's not the most interesting thing. Students want to be in the action."
The University of Massachusetts at Amherst isn't offering its usual fall program in Israel on the advice of its international risk management committee, Daniel Fitzgibbons, a spokesman, said by telephone.
Risk Assessment
Many schools have set up such committees, which pool information from the State Department's Overseas Security Advisory Council, insurance and security providers, news reports, partner universities and faculty members, said Jason Cody, a spokesman for Michigan State University. The East Lansing-based school withdrew eight students from Israel this summer, Cody said.
Not all colleges are recalling students from Israel or suspending fall programs, Northwestern University among them.
Northwestern students headed to Tel Aviv this fall had to agree to restrictions, including prohibition of travel to Gaza or the West Bank and compliance with any evacuation mandates that may come from the university, Julie Friend, director of the office of global safety and security at Evanston, Illinois-based Northwestern, said in an e-mail.
Yeshiva Program
Annually, more than 600 freshmen at Yeshiva University in New York choose to spend their first year in Israel and the program is in place for the fall, Kenneth Brander, vice president for university and community life, said in a phone interview. He estimated that about six students opted out of the program.
Yeshiva also had about 35 students in Israel this summer and didn't pull them out, Brander said. Still, students in two communities were evacuated in the middle of the night to safer locations.
Jaclyn Roache, the student at Boston-based Northeastern, experienced four air raid sirens in her three weeks in Israel.
"Two nights when we were out to dinner in Jerusalem, my group and I could see an air missile fired from Gaza coming from one direction and one coming from the Israeli Iron Dome to intercept it," Jaclyn said. "They disappeared into a little cloud in the air. You would hear booms every few minutes."
Ironically, when her sister Kelly was evacuated from Cairo in 2011, she was first flown to Istanbul, then back to the U.S., where she was debriefed at Princeton, and eventually finished out her spring semester in Jerusalem, then considered a safer spot in the Middle East, Kelly said in an e-mail.
For reasons of safety, students aren't permitted to study in Egypt at this time, the Princeton, New Jersey-based university said on its website.
"I completely understand why they felt like they should have evacuated us," Jaclyn said. "But I wish they hadn't. Everyone in the group talked about it and we hadn't felt unsafe," she said. "I was disappointed but understanding."
Before it's here, it's on the Bloomberg Terminal.
LEARN MORE