pursuits
How the Men in Blazers Made It to Sportscasting's Major League
By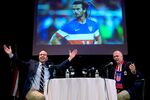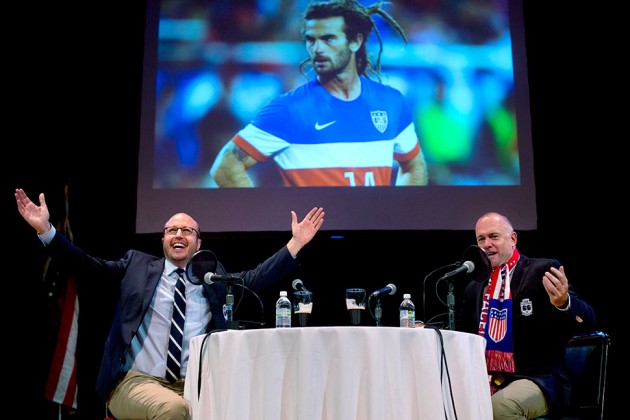 Most major league sportscasters don't get called up from a broom closet, but that's pretty much what just happened to Michael Davies and Roger Bennett, the self-deprecating duo behind the popular Men In Blazers podcast.
The British expatriates are bringing their talents to NBC's burgeoning coverage of Barclays Premier League soccer, trading up from a successful stint covering the World Cup for ESPN. The deal will have the two recapping the week's Premier League coverage on NBC Sports on Monday nights; they will continue broadcasting their weekly podcast via a special section of NBCSports.com.
 
"Covering" may be a bit of an overstatement for what Davies, a reality-television producer, and Bennett, a writer and filmmaker, did in Brazil. Streaming video from a tiny room in Rio de Janeiro, the pair spent about as much time talking about the local spiders (huge) and the bananas (tiny), as they did discussing the sport. For every riff about a relatively obscure soccer player, there was lively banter about which Hollywood actor would play the athlete in a movie. Davies and Bennett predicted winners via cupcake taste tests, talked at-length about the players with the best hair, and explained the proper way to fold one's arms when posing for a pre-game video cameo.
When things slowed down, or Davies and Bennett grew delirious from a relentless schedule, they poked fun at their more mainstream ESPN co-workers and talked about the books they were reading. When jilted U.S. star Landon Donovan came on air to analyze the performance of his former teammates, the Men In Blazers likened his appearance to Jennifer Aniston being forced to watch the nuptials of Brad Pitt and Angelina Jolie. There was plenty of banter for those who didn't know—or care—much about soccer.
The pair has a remarkably irreverent and seemingly unscripted approach to broadcasting. The closest parallel in media may be Tom and Ray Magliozzi, better known as the Car Talk guys, who retired from the popular call-in radio show in 2012. A listener's question about mufflers usually sparked a 10-minute commentary on marriage or parenting or mothers-in-law. It's fair to say the fans—roughly 3.3 million a week by the end of Car Talk's run—weren't just trying to fix their cars.
Unlike the Magliozzis, the Men In Blazers are Twitter, Tumblr, and Instagram savants, capitalizing on a steady stream of fan-submitted "content".
Brad Adgate, senior vice president of research at Horizon Media, which crafts advertising strategies, says the podcast's established fan-base was not lost on NBC talent scouts. "It's not the normal route," he says. "But these days, people get record contracts from a YouTube performance."
Davies and Bennett will help NBC cultivate new soccer fans in the U.S. The company has invested heavily in British soccer by agreeing to pay $250 million over three years for the broadcast rights to all Premier League games. Last year, in its first season of British soccer, NBC won 31.5 million viewers. Still, the most-watched games don't garner nearly as many viewers as an average NFL game.
The age-old strategy for building sports fans is analysis—helping people understand the game better. Men In Blazers does this well. A striker's performance may be likened to some obscure player from the 1970s or Jennifer Grey's character in Dirty Dancing. References to Neil Diamond, Game of Thrones, and the poet Philip Larkin are common as well.
As the Men In Blazers prepare for their network debut—they've been coaching Americans on how to choose an English club to root for—there are no signs that the two will tone down the raucous antics for their new bosses. "NBC have such a remarkable team of talent. But every team has a weak link and we are delighted to be that weak link," the Men In Blazers wrote on their blog after news of the deal broke.
Before it's here, it's on the Bloomberg Terminal.
LEARN MORE