In New England Grocery Standoff, Workers Back Ex-Boss and Lose Pay
By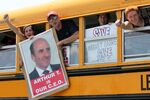 When employees at Market Basket, one of New England's most successful retail chains, walked off the job a few weeks ago it wasn't because of management's attempts to lower wages or cut pensions or make them pay more for health benefits. It was because their boss, Arthur T. Demoulas, had been ousted as president by his cousin, Arthur S. Demoulas.
Artie T., as he's known, kept prices lower than his competitors, paid his employees more, and gave them some real authority. The protest over his dismissal has left shelves empty and customers turning elsewhere. The 71-store chain with 25,000 employees and sales of $4.6 billion last year is losing millions of dollars each day the dispute drags on.
Now the company has decided to fight back. It announced last week that it's cutting to zero the hours of all part-time employees, who make up the majority of Market Basket's workforce. That certainly complicates the situation.
Store managers are still at work and are being paid. Some of them, as well as executives at the headquarters in Tewksbury, Mass., are helping to organize the demonstrations. They've set up a fundraising site that asks workers who are getting paychecks to help support those who aren't. So far the fund has raised more than $91,000.
The feud between the Demoulas cousins goes back decades and seems to involve misbehavior, apparent fraud, and a fair amount of greed and pride. Arthur S. and his side of the family own 50.5 percent of the company; Artie T. and his side own the rest. The board of directors, led by Arthur S., is now considering offers for the chain. Artie T. has made a bid.
Before it's here, it's on the Bloomberg Terminal.
LEARN MORE