pursuits
Travails of the Smartest Celebrity: Kanye's New Song Leaks
By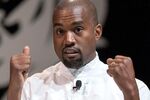 It's been a difficult few weeks for Kanye West. He lamented to GQ that he's no longer the most popular rapper, conceding the loss of his throne to Drake. TMZ obtained a deposition in which West ranted about his intelligence. "I'm the smartest celebrity you've ever f-‍-‍-ing dealt with," he said. "Im not Britney Spears."
Now a bootleg version of All Day, the single from West's forthcoming album, has surfaced on the Internet. It must be disappointing for West to have one of his unfinished masterpieces leave the studio ahead of schedule.
Or is it? The song is a rough mix, probably recorded on someone's smartphone. And yet the beat is slamming and West is in fine form, hurling witty insults at unspecified haters. It will only make his admirers hunger for the finished product.
The leaked court records, from a lawsuit in which the rapper is accused of roughing up a paparazzo, are likely to have a similar effect. West's abundant self-regard is not a secret. This is an artist who once told the Fader magazine that he's channeling the highest of powers when he's on the mic: "I'm like the vessel, and God has chosen me to be the voice and the connector."
The more awkward moment in the deposition comes when West conflates the civil rights struggles of the Sixties to those of celebrities seeking refuge from tabloid picture takers: "I equate it to discrimination. I equate it to inequalities." He goes on tenuously in the same vein: "We, as a group of minorities here in L.A., as celebrities, have to ban together to influence guys like this—guys trying to take the picture, guys trying to get the big win, guys trying to get the check."
As Vanity Fair put it, this actually sounds like something Britney Spears would say. But it's too much to demand rhetorical coherence at all times from someone who claims to be divinely inspired.
West is his own self-invention: arrogant, uncensored, and uniquely talented. It can be a messy combination, but that's his appeal. He's not an unruffled romantic like Drake. He's not even sure he wants the throne anymore. "It's a real question to me," he told GQ. Then, as he is wont to do, West compared himself to Steve Jobs.
Before it's here, it's on the Bloomberg Terminal.
LEARN MORE