Health-Care ETFs Ride Earnings to Record Flows: Chart of the Day
Joseph Ciolli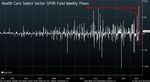 Investor appetite for the biggest health-care exchange-traded fund reached record levels last week after companies in the industry reported results that beat analysts' estimates by more than any other group.
The CHART OF THE DAY shows that the Health Care Select Sector SPDR Fund received $843 million of deposits for the five-day period ended Aug. 8, the largest weekly inflow since Bloomberg started compiling data. The Market Vectors Pharmaceutical and Guggenheim S&P 500 Equal Weight Healthcare ETFs also saw record inflows of more than $75 million.
Health-care stocks have benefited from earnings reports that reflect a "dynamic" space with ample opportunity for growth, said Dan Veru of Palisade Capital Management LLC. Ninety percent of health-care companies have exceeded analysts' profit forecasts so far this reporting period, while 88 percent reported revenue that beat estimates, according to data compiled by Bloomberg. That's the best performance out of the 10 main Standard & Poor's 500 Index industry groups.
"The earnings season, by and large, was pretty good for the health-care sector," Veru, chief investment officer at Palisade Capital Management in Fort Lee, New Jersey, said in a phone interview last week. His firm oversees $3.5 billion. "Some of these inflows may be coming from recognition that the space outperformed, and that it could continue to outperform. We think the flows are well-founded."
The S&P 500 Health Care Index is up about 9 percent this year, beating the broader benchmark gauge, which has gained 4.8 percent. The index, whose biggest components are Johnson & Johnson and Pfizer Inc., has risen in each of the past five years.
The SPDR Health Care ETF has attracted almost $935 million this year, the fifth-biggest inflow for a single fund, according to Bloomberg data. Health-care ETFs have absorbed $3.9 billion in aggregate capital since the start of 2014, the third-most out of 12 groups, trailing just real estate and energy, the data show.
Before it's here, it's on the Bloomberg Terminal.
LEARN MORE