Chiquita Traders Bet on Bid Bump After 30% Gain: Real M&A
Brooke Sutherland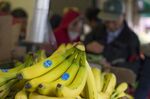 The bidding may be just beginning for Chiquita Brands International Inc.
Even after the shares jumped more than 30 percent this week on news of a surprise $13-per-share takeover bid, investors are betting they will get more. Chiquita's stock yesterday closed 3 percent above the joint offer from Brazilian orange-juice processor Cutrale Group and financial conglomerate Safra Group, and MKM Partners LLC says it may take as much as $16 to get a deal done.
"Shareholders would probably like the company to be auctioned -- I think that would yield the best result," Sachin Shah, a special situations and merger arbitrage strategist at Albert Fried & Co., said in a phone interview. "It's up to the board to make sure that they literally shake the tree as much as possible to get the best offer."
Accepting the takeover proposal would force Charlotte, North Carolina-based Chiquita to scrap its plan to buy Irish competitor Fyffes Plc in a tax-advantageous inversion deal. Even so, a Chiquita sale would give investors a quicker way to lock in gains, according to Gimme Credit LLC. Fresh Del Monte Produce Inc. or even Tropicana orange-juice maker PepsiCo Inc. could also join the bidding for the $629 million company, Shah of Albert Fried said.
Chiquita said its board will review the offer from Cutrale and Safra and determine the best course of action.
A spokesman for Chiquita declined to comment further, as did a representative for Dublin-based Fyffes. A representative for Cutrale and Safra also declined to comment.
In Play
The bid for Chiquita comes five months after the banana producer agreed to buy Fyffes in an all-stock transaction that would create the world's biggest banana producer. Cutrale wants Chiquita to scrap that deal and opt for its proposal instead.
"They found a good merger partner in Fyffes and now the applecart is being upset," Kim Noland, a bond analyst at Gimme Credit in New York, said by phone. "It is an ideal time for somebody to come in. The company is basically already in play. They already put themselves out there" by indicating with the Fyffes deal that Chiquita was open to some kind of combination.
Pilgrim's Pride Corp., the chicken producer owned by JBS SA, tried the same tactic as Cutrale earlier this year when it bid on Hillshire Brands Co. just weeks after Hillshire announced a takeover of Pinnacle Foods Inc. Tyson Foods Inc. eventually won a bidding war for Hillshire, which backed away from the purchase of Pinnacle Foods.
Right Time
Cutrale decided to bid on Chiquita after the U.S. Court of Appeals in Atlanta dismissed a human-rights case against the fruit importer in July, helping to alleviate the legal risk of a takeover, said a person familiar with the matter, who asked not to be named because the discussions are private.
Growing opposition to inversions also probably helped provide the Brazilian fruit producer with an opening to approach Chiquita, said Shah of Albert Fried. The U.S. Treasury Department is weighing ways to deter such deals and bypass Congress, which is at a stalemate over the issue. Walgreen Co. last week said it wasn't going to use a purchase of Alliance Boots GmbH to move its legal address abroad.
"How many times do you have a chance to buy a premium brand in a sector that doesn't have too many?" Shah said. "Because you have the headline news with inversions, they're basically saying, 'OK, if we're going to do something, this is our chance.'"
Cash Now
Chiquita shareholders seem to prefer the role of target over buyer. The banana producer's record surge after the Cutrale bid was disclosed outpaced its 11 percent gain the day it announced the Fyffes acquisition.
Today, Chiquita shares extended their gains, rising 0.2 percent to $13.42.
"Clearly, there was a strategic rationale for the Fyffes deal," said Noland of Gimme Credit. "But it's a bird in the hand today versus two in the bush. You're going to have people owning the shares now that believe they would rather have $13, preferably more, in cash as soon as possible."
The takeover proposal values Chiquita at about 12 times its adjusted earnings before interest, taxes, depreciation and amortization in the last 12 months, according to Cutrale and Safra. While that's a premium to the median multiple for similar-sized food deals in the last five years, Shah of Albert Fried says the valuation is misleading because earnings have been under pressure.
Higher Price
Chiquita projects adjusted Ebitda of $144 million for 2014 and $160 million for 2015. Using those estimated figures, the Cutrale bid values the company at a multiple closer to 8 times.
"It's not like it's a blockbuster price," Keith Moore, an event-driven strategist at MKM, said in a phone interview. "In order to get them at least interested, it's going to have to be maybe $15 or $16" a share.
Chiquita may not be motivated to abandon the Fyffes deal just yet, according to Brett Hundley of BB&T Corp., who said the transaction may help boost Chiquita shares. Any government action on inversions is unlikely to substantially undercut that potential gain because the tax synergies are modest, he added.
"Comparing the Fyffes merger and the Cutrale bid is like comparing apples and oranges," Hundley wrote in a report yesterday. Chiquita has previously said it expects the Fyffes transaction to close before year-end, with shareholder votes for both companies scheduled for Sept. 17.
Deal Door
Even so, the fee Chiquita would have to pay for calling off the Fyffes deal isn't too punishing and if takeover bids start approaching $15 or higher, it will be harder for the board to keep saying no, Hundley wrote.
The emergence of more bidders could help push up the price. Fresh Del Monte, a $1.75 billion banana and pineapple producer, or even a conglomerate with a fruit-juice business such as PepsiCo could be interested, said Shah of Albert Fried.
A representative for Fresh Del Monte didn't respond to a request for comment. A representative for Purchase, New York-based PepsiCo declined to comment.
Chiquita would give a food producer "further aisle space within the supermarket," Shah said. "This seems to be the door, if they're interested."
Before it's here, it's on the Bloomberg Terminal.
LEARN MORE