Chick-fil-A Finally Gets Serious About Coffee
By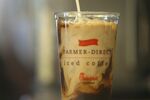 Chick-fil-A has a passionate following of diners who rave about the chain's chicken sandwiches, waffle fries, and other menu items—but never, ever about Chick-fil-A coffee.
"They might put up with our coffee, but that's a limiting factor in growing our breakfast business," says David Farmer, the chain's vice president of product strategy and development. "It's not something we're proud of." In fact, it's not uncommon for breakfast customers to walk in with coffee cups from other restaurants, he says. That's a problem when breakfast is the fastest growing meal in the fast-food business, and it means Chick-fil-A is missing out on plenty of morning coffee dollars.
Chick-fil-A will announced on Aug. 12 that it will swap out the old, unpopular brew for a new specialty-grade coffee from Thrive—a supplier that shares revenue with farmers—and will add iced coffee to the menu. Restaurants have new instructions to brew smaller pots so the coffee is fresher and to prepare the drinks for customers rather than passing a clumsy handful of sugar packages and creamers through the pickup window.
Chick-fil-A has been developing the program for over a year and tested it in Philadelphia, Nashville, and Phoenix, where the new Thrive brew helped boost coffee sales by 35 percent. The 1,800-restaurant chain wouldn't share current coffee sales, saying only that they were "low enough to inform us there was plenty of opportunity for growth," and that it hopes the new program will double them. Farmer expects Thrive's hot coffee to increase business during breakfast—now about 16 percent of Chick-fil-A's sales—and the new iced coffee to draw afternoon customers.
It's not dissimilar to what fast-food breakfast leader McDonald's said when it first opened McCafe in the U.S. "We are aggressively looking for ways to grow our business under the Golden Arches, and McCafe gives customers another reason to visit McDonald's," said Alan Feldman, then president of McDonald's USA, in a 2001 press release.
Other fast-food chains have been paying attention to their joe for a while. Burger King started serving Seattle's Best in 2010 and Subway recently announced that it will be brewing coffee with Keurig's popular single serve machines.
"Expectations around coffee have shifted a lot," says Farmer. Any chain that wants to have a serious breakfast business will need to keep up.