Can Cinnabon Woo Foodies With a New Chain of Artisanal Bites?
By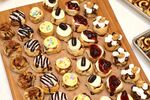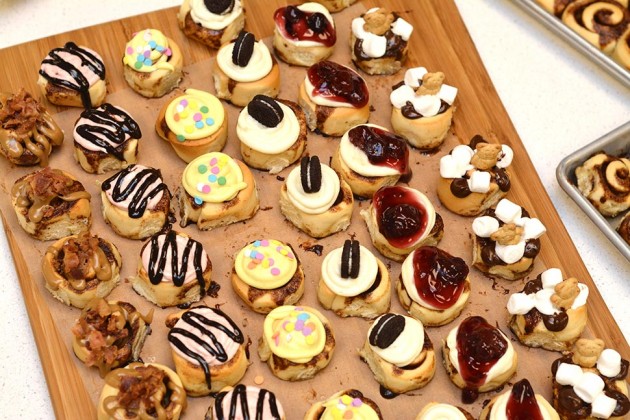 Imagine a Cinnabon smothered with cream cheese icing, set amid rows of clones in a flashy food court. Now shrink it to one-tenth the size and switch to Oreo frosting or a Caramel Macchiato spread. Then go to the opposite end of the mall, and serve it like an artisanal bon bon in a stand-alone shop that looks nothing like its fast-food parent.
Welcome to Bon Bake Shop by Cinnabon, a new chain that the cinnamon roll giant will test in mid-September at Houston's Willowbrook Mall. It's the latest move by a brand that has put its name on vodka, Cream of Wheat, and frosting-filled dessert balls at Taco Bell. And like Taco Bell, which just opened a higher-end eatery near Los Angeles called U.S. Taco Co. that boasts lobster, milkshakes, and fries, Cinnabon is trying to woo people who don't eat its food. The 880-calorie Cinnabon Classic roll won't even be on the Bon Bake Shop menu.
Instead, you can buy smaller rolls with frostings such as Smores, Maple Bacon, Wild Berries & Cream, or a yellow Birthday Cake icing with sprinkles on top. "The next big thing in indulgence is small," says Cinnabon marketing chief Kristen Hartman, who has led the initiative. "People are all about bite-sized and sharing."
To encourage that sharing, perhaps, the smallest serving will be a four-pack "flight of bites" for $3.69 while a box of 16 costs $13.99. As Cinnabon fans know, the chain already sells 350-calorie "Minibons" and a 4-pack of "Classic Bites" that are 105 calories each. (The Bon Shop version is around 90 calories.) The difference comes in the variety of toppings: Instead of two (cream cheese and caramel pecan), there are nine. That includes the eight mentioned above and a rotating selection of flavors such as Pumpkin Caramel, Toasted Coconut, Bavarian Cream Pie, Brownie Batter, and Butterfinger.
The Bon Bake Shop will also have Whoopie Pies (red velvet cakes filled with its cream cheese frosting) and such savory items as cheese rolls and twists. The new chain will also have a more understated look, favoring warm tones over Cinnabon's blue-and-white. Instead of shirts with cheeky messages like "Come check out my six pack," Bon Bake Shop staff may sport softer slogans like "Baking is love you can taste."
Why do so much work for a chain that will open only three locations this year? For one thing, it lets Cinnabon experiment without annoying fans of its 1,200 stores. This sort of brand extension also lets a company pitch franchisees on a new way to reach new customers with same supply chain. (Think of all the iterations of former Miami Dolphins coach Don Shula's various chains.) As franchise consultant Michael Seid notes, "It's the same product served different ways." If Bon Bake Shop ends up cannibalizing sales at the Cinnabon in Willowbrook Mall or other test locations, the company may decide to fold some items into the Cinnabon menu or take a alternative approach.
What's clear is a desire to diversify. With the recent demise of Crumbs cupcake chain, the folks at Cinnabon know well the perils of building a brand around a single product. While chains such as Starbucks have managed to broaden their appeal and menu, others find it tough to shake an association with one kind of food or eating experience. For Taco Bell, it's cheap late-night Mexican fast food. For Cinnabon, it's a decadent, gooey cinnamon roll you can smell from across the mall. And Bon Bake Shop? Maybe that's the kind of craving that makes you bring a box of doughnut holes to the office or add a brownie to your salad-and-smoothie lunch. For Cinnabon, it smells like a hedge that's worth a try.
Before it's here, it's on the Bloomberg Terminal.
LEARN MORE