Myanmar's Incomplete Political Transition Is Not 'Hunky-Dory,' Says Kerry
Christina Larson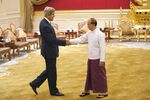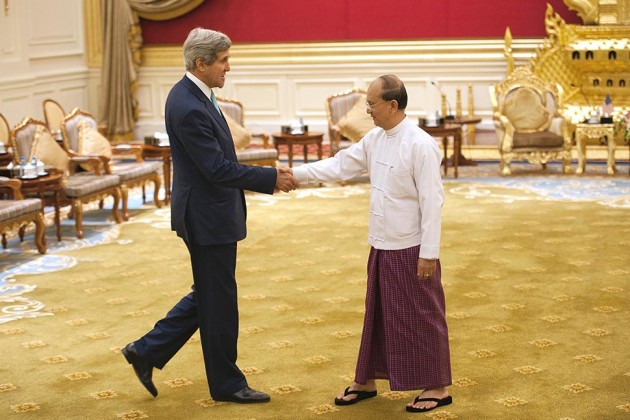 Since July 2012, U.S. companies have cumulatively invested $612 million in Myanmar (formerly known as Burma). Among the leading corporations hoping to carve out market share in the Southeast Asian country of 60 million, which kicked off political reforms in 2011: Coca-Cola, General Electric, Caterpillar, MasterCard, Western Union, Procter & Gamble, and Gap.
Yet questions remain about the stability of the fledgling democracy and whether hard-won political reforms are in danger of being rolled back. In particular, Burmese grassroots activists and international NGOs have sounded alarms over the persecution of the Rohingya minority group—thousands of whom live in squalid conditions in coastal refugee camps—and the sentencing of local journalists for reporting on Burmese military facilities, evidence of continuing press restrictions.
On Sunday, U.S. Secretary of State John Kerry, who visited Myanmar to participate in meetings with counterparts from the Association of Southeast Asian Nations (Asean), told foreign media that Myanmar's political transition was fragile and incomplete. "Is everything hunky-dory? No, not yet. Absolutely not," he said, as the New York Times reported. "There are still things that need to be done."
In addition to meeting with President Thein Sein, Kerry spoke to opposition leader and Nobel laureate Aung San Suu Kyi, who intends to run for president in the 2015 national elections. Yet Suu Kyi, despite her massive domestic popularity and international renown, faces considerable obstacles in her quest—including a constitutional clause that states that those with children or spouses who hold citizenship in other countries are forbidden from running.
Suu Kyi has two sons with her late English husband, and the peculiar clause in Myanmar's military-drafted constitution is generally seen as having been written expressly to block her bid. The military retains a dominant role in parliament today. On June 13, 26 of the 31 parliamentarians on a crucial election committee voted against amending the presidential requirement that excludes Suu Kyi.
Kerry said the upcoming election would be an important litmus test of the country's democratic progress, or lack thereof. "Next year's election will absolutely be a benchmark moment," he said, "for the whole world to be able to assess the direction that Burma is moving in."
Before it's here, it's on the Bloomberg Terminal.
LEARN MORE