pursuits
Latest Addition to Burger King's Non-Innovation Menu: Chicken Fries, Again
By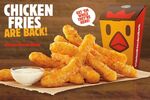 The latest idea to emerge from Burger King's minimalist innovation pipeline is not new at all: Chicken Fries are making a limited-time return to the menu. The 4-inch fried chicken strips shaped like French fries have been off Burger King's menu since 2012, apparently displaced by the introduction of Crispy Chicken Strips.
When BK Chicken Fries first came out in 2005, the strips of seasoned and breaded white-meat chicken seemed like a play for drive-through customers with the item's cup holder-friendly box. Burger King said it was its most successful launch in years, selling 100 million Chicken Fries in four weeks. This time around, the chicken fries will cost just 20¢ more than at their first appearance—about $2.89 for nine pieces.
As for taste, one reviewer complained the fries were too skinny, and another concluded, "All in all, the BK Chicken Fries are just OK."
Despite these lukewarm evaluations, the item developed a fringe following—a fact that Burger King marketers are sure to drum up for the relaunch. A petition on Change.org to bring back Chicken Fry amassed 235 supporters, a Twitter fan account, @thechickenfries, has 691 followers, and the obligatory "Bring Back Burger King's Chicken Fries" page on Facebook has 2,316 likes.
The initial reaction—at least on social media—has been strong. As of Monday morning, #ChickenFriesAreBack had been mentioned on Twitter about 39,000 times in a 24-hour span, according to Topsy.com. Burger King will also sell Chicken Fries merchandise—T-shirts, mugs, bumper stickers, pins, and temporary tattoos, and more—for a charity called the Burger King McLamore Foundation.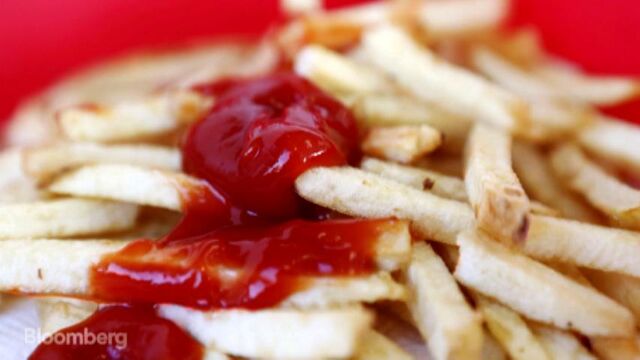 Before it's here, it's on the Bloomberg Terminal.
LEARN MORE