China's Latest Anti-Porn Campaign Hits Baidu
By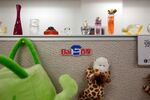 Beijing-based Baidu has long been No. 1 in Chinese-language search and has thrived in part because—unlike its American rival Google—it has been willing to play by the rules of the government's cyber cops. That has helped make Baidu a favorite among investors eager to capitalize on Chinese consumers' embrace of the Internet. Late last month, Baidu's Nasdaq-traded shares hit an all-time high of $226.50, a 27 percent increase from the start of the year.
But even Baidu can run afoul of China's censors. Naughty pictures have gotten China's largest search engine in trouble, with the government's anti-porn police yesterday saying it had found inappropriate content on the accounts of some users of Baidu's Dropbox-like cloud storage service. Baidu must "promptly delete all files in question, shut down accounts uploading such content, and present a report on its clean-up effort," the official Xinhua news agency reports. The Beijing Cultural Law Enforcement Agency has warned Baidu to do a better job censoring content, according to Xinhua, with the official cyber-prudes warning Baidu "against slack supervision of its service."
Baidu declined to comment.
The incident might appear to be just a mild setback for the search powerhouse. After all, while landing on the wrong side of the censors isn't ideal, Baidu escaped with just an embarrassing slap.
Still, the setback is part of a bigger campaign by China's government to impose more restrictions on thriving, private-sector Internet companies. For instance, the government is tightening rules to prevent users of Tencent's hugely popular mobile messaging app, WeChat, from spreading news that doesn't come from authorized—in other words, government controlled—media.
As with Baidu and the porn warning, the initial impact on Tencent has been minimal: The Shenzhen-based company has so far closed more than 100 WeChat accounts, but with a total of nearly 400 million active WeChat users, that's not a significant number. Still, the moves requiring celebrities and other high-profile users of Tencent's WeChat and rival Alibaba's Laiwang messaging apps to register with regulators "may reduce content and hurt user engagement," Bloomberg Industries analysts Praveen Menon and Paul Sweeney wrote in a report published Friday.
The latest steps to restrict what Chinese can say online could add to investor jitters about the country's Internet stocks. "The Chinese government is ratcheting up its censorship of the Internet," Cyrus Mewawalla, managing director of CM Research, told Bloomberg News. "The fate of some of the largest Internet companies is more entwined in politics than ever, and that demands investors place higher risk premiums on the sector."
Before it's here, it's on the Bloomberg Terminal.
LEARN MORE