HKEx-Shanghai Stock Sale Curb Shows China's Rules Apply
Richard Frost and Kana Nishizawa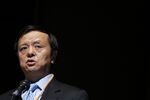 Investors using the Hong Kong-Shanghai exchange link to access China's $3.6 trillion stock market will have to play by mainland rules.
Traders who want to sell Shanghai-listed shares must transfer the securities to a broker before 7:30 a.m. to comply with Chinese regulations, Charles Li, the chief executive officer of Hong Kong Exchanges & Clearing Ltd. and chairman of the firm's equity bourse unit, wrote in a blog posting. The rule is more restrictive than the T+2 settlement system used in Hong Kong and other major stock markets, which allows traders to execute sell orders before transferring the securities.
Pressure is increasing on Hong Kong and mainland authorities to provide clarity on trading rules before the link, which will give foreigners unprecedented access to the biggest emerging stock market. While the system won't be "perfect," the exchanges are pushing forward because the tie-up will help open up China's markets and boost Hong Kong's role as a global financial hub, according to Li.
"It's not possible for China's stock market to relax all restrictions at once," said Castor Pang, the head of research at Core Pacific-Yamaichi in Hong Kong. "Right now it's making changes step by step."
Market Constraints
The exchange link will start on Oct. 13, according to the National Business Daily. Hong Kong Exchanges won't be 100 percent ready before October and regulators may announce the start date two weeks before it begins, Li said at a briefing Aug. 6.
"If we wait for the mainland market to align with Hong Kong's, we could be waiting a decade or longer," Li wrote in his blog. "While we have managed to find a solution to most of the challenges of aligning two very different markets, some of the differences were so significant that our solutions will inevitably constrain the market."
Authorities said in April the link would start in about six months. The exchanges agreed to allow as much as 23.5 billion yuan ($3.8 billion) of daily cross-border trading, opening up the mainland market further to foreigners while giving wealthy Chinese investors a route to buy Hong Kong stocks. Overseas institutions and investors will be able to trade shares on the SSE 180 Index and SSE 380 Index, as well as dual-listed stocks, via Hong Kong brokerages, the city's government said April 10.
Holiday Schedule
Quotas imposed on trading will be on a first-come, first-served basis, regardless of size or other factors, according to Li. The quotas may be expanded over time or removed altogether, he wrote.
"People are encouraged Charles Li said the quota may be increased in the future, and they might eliminate it altogether so you can buy as much as you like," said Francis Lun, the Hong Kong-based chief executive officer at Geo Securities Ltd.
The exchange link will only operate on days where trading and clearing arrangements are open in both Shanghai and Hong Kong, while investors will be protected by regulators of the market in which they're buying stocks, Li wrote. The China Securities Regulatory Commission will oversee investors in yuan shares, while Hong Kong's Securities and Futures Commission will regulate buyers of equities in the city, he said.
Tax Uncertainty
Policy makers still haven't spelled out whether foreign investors in Chinese stocks will be subject to a tax on capital gains. MSCI Inc., which kept mainland shares out of its global indexes in June, says the lack of clarity on tax policy is one of investors' biggest concerns. HKEx said last month it's working with mainland authorities to clarify how the law will be implemented before the exchange connect begins.
The Shanghai Composite Index has climbed 11 percent since March 20 amid speculation government stimulus will boost economic growth and the exchange link will lure arbitragers to mainland shares trading at a lower prices than their Hong Kong-listed counterparts.
Companies with dual listings are valued at a discount of about 7 percent on the mainland versus Hong Kong, according to the Hang Seng China AH Premium Index. The Shanghai Composite rose 0.9 percent at 10:57 a.m., while the Hang Seng China Enterprises Index of mainland companies listed in Hong Kong increased 1.5 percent.
While HKEx was unable to work around mainland restrictions on sell orders, it will try to develop alternatives to minimize the inconvenience after the link begins, Li wrote on his blog.
"This trading practice will inevitably add an administrative burden to international investors who will need time to become accustomed to these trading rules," Li wrote. "Despite significant efforts, we will not be in a position to offer investors alternative solutions at the time of launch that will resolve this issue."
Before it's here, it's on the Bloomberg Terminal.
LEARN MORE