Typhoon Halong Disrupts Air, Rail Service in Japan
Yoshiaki Nohara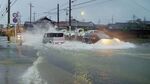 Typhoon Halong disrupted rail and air services throughout southwestern Japan today as it closed on the islands of Kyushu and Shikoku with winds gusting to 185 kilometers (115 miles) per hour.
The Japan Meteorological Agency issued warnings for heavy rain and flooding in prefectures from Kagoshima to Ishikawa on the Japan Sea coast as Halong heads toward landfall on Shikoku later today. The storm was centered about 160 kilometers southwest of the southwestern tip of Shikoku at 3 p.m., on course to track over Shikoku and southwestern Honshu tonight before moving into the Japan Sea tomorrow, the agency's website showed.
ANA Holdings Inc. canceled 102 domestic flights affecting about 9,700 passengers as of 4 p.m., according to the Japanese airline. Japan Airlines Co. canceled 137 local flights affecting some 12,230 people as of 2 p.m., it said in a faxed statement. The typhoon also disrupted rail services in western Honshu, Kyushu and Shikoku, the local rail operators reported.
Japan averaged more than 11 typhoons annually during the 30-year period through 2010, most of them occurring between July and October, according to the weather agency. Typhoon Neoguri last month left at least three dead after passing over Kyushu and skirting the nation's Pacific coast.
Before it's here, it's on the Bloomberg Terminal.
LEARN MORE