Maryland Agrees to Pay ACC $31.4 Million After Joining Big Ten
Eben Novy-Williams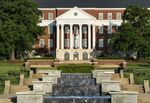 The University of Maryland and the Atlantic Coast Conference reached an agreement that will save the school about $20 million in its move to the Big Ten.
The sides agreed in mediation that the ACC would keep about $31.4 million it withheld from the school in College Park, Maryland, after the university announced in 2012 that it was bolting for the financial security and larger revenue streams of the Big Ten.
Two months before Maryland announced its intentions, the ACC raised the league exit fee to three times the annual operating budget, which would equal more than $50 million.
"This agreement allows everyone to fully focus their energy and efforts on prioritizing the student-athletes, especially in this significant time of change within the NCAA restructuring," ACC Commissioner John Swofford said yesterday in an e-mailed statement.
The settlement ends all litigation between the two sides, and Maryland has no further financial obligation to its former conference, according to the release. Lawsuits in the states of North Carolina and Maryland will be dismissed.
Maryland, a charter member of the ACC since it joined in 1953, officially moved to the Big Ten on July 1.
"Our student-athletes, coaches, staff, fans and alumni will forever hold dear the memories of six outstanding decades in the Atlantic Coast Conference," Maryland Athletic Director Kevin Anderson said. "Today marks the next chapter in the history of Maryland athletics, and we look forward to creating new memories in the decades to come."
The exit fee far exceeds the amounts paid by schools leaving other conferences. Pittsburgh and Syracuse agreed on $7.5 million departure payments from the Big East in July 2012.
Before it's here, it's on the Bloomberg Terminal.
LEARN MORE