Woods Enters 2nd Round of PGA Nine Shots Behind Leaders
Michael Buteau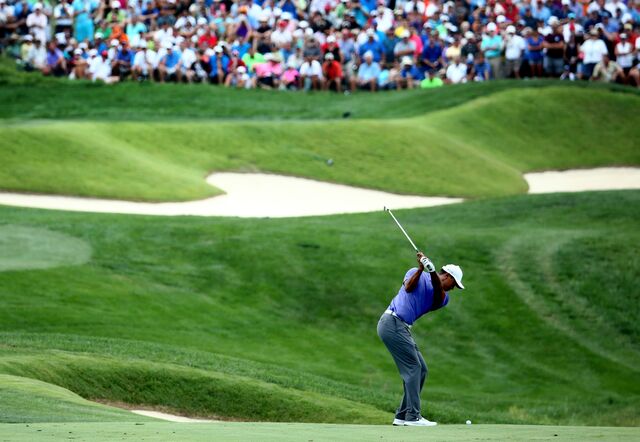 Tiger Woods enters today's second round of the PGA Championship nine shots off the lead after his ailing back produced numerous errant shots and few birdies in his opening 18 holes.
Woods shot an opening-round 3-over-par score of 74 at Valhalla Golf Club, where Lee Westwood, Kevin Chappell and Ryan Palmer are tied for the lead at 6 under.
Woods left last week's PGA Tour event during the fourth round with back spasms, and only announced two days ago that he would play in the PGA Championship.
"It's a little stiff," Woods told reporters when asked about his back after the round.
Woods, 38, arrived in Louisville, Kentucky, less than 24 hours before his starting time and played nine practice holes before beginning play in a group with Phil Mickelson and Ireland's Padraig Harrington. The three will tee off again at 1:45 p.m. today.
The lack of preparation showed as Woods finished his round with four bogeys and a birdie. He missed tee shots wide of the intended targets, landed wedge shots short of the greens and struggled to hit putts hard enough to reach the holes.
"I didn't play as well as I wanted to," said Woods, who has 14 major titles. "It is what it is. I had the same opportunity as everybody else. I just didn't get it done."
It has been six years since Woods won a title in any of golf's four annual Grand Slam events. The PGA is his final chance this season to close the gap on Jack Nicklaus's record 18 majors.
Beginning play on the 10th hole at the Nicklaus-designed course, Woods bogeyed two of his opening five holes before chipping in from off the 16th green for a birdie. His first two bogeys came on par-3 holes.
Driver Woes
Woods's woes were mostly related to his driver, a club that requires the most timing and force to hit shots long and straight off the tee. He finished the round hitting eight of 14 possible fairways.
He missed the fairway on the course's first hole -- his 10th of the day -- so far left that the ball came to rest in thick grass, about 80 yards away from the center of the fairway. After a hard, lashing swing, Woods's ball landed 35 yards short of the green. He left that green with his third bogey of the round.
Things didn't improve on the next hole, the 500-yard, par-4 second. Woods tried a 3-wood off the tee with the same result, pulling the shot left of the fairway into a creek. Woods cursed and slammed his club into the ground as he walked off en route to his fourth bogey.
About two hours before Rory McIlroy, golf's new No. 1-ranked player, began his opening round, Woods seemed to already be out of contention. Still, Woods wasn't ready to rule himself out of the tournament.
"I just have to get under par tomorrow," he said. "If I get under par for two rounds, I'll be right in the ball game."
Back Surgery
Recovery from back surgery March 31 kept Woods out of April's Masters Tournament for the first time as a professional and the U.S. Open in June. He finished 69th in last month's British Open, his worst 72-hole result in any of the sport's four major tournaments.
When Woods did hit his tee shots where he wanted yesterday, his irons failed him. On the 12th hole, Woods had a pitching wedge in hand and left his approach shot about five feet short of the putting surface. He had similar results on holes 14 and 16, where he was able to salvage his only birdie with a chip-in from off the green.
Even Mickelson sounded sympathetic about Woods's struggles.
"I thought he played with a lot of heart," said Mickelson, a four-time PGA Championship winner. "It's not easy -- when your game isn't where you want it and you're hitting shots that you don't normally hit -- to fight hard."
On his final hole, Woods left a 30-foot birdie putt two feet short of the cup. He has made only five putts longer than 20 feet this year.
"It wasn't very good," Woods said. "A lot of bad shots and I never got a putt to the hole. That's not a good combo."
Before it's here, it's on the Bloomberg Terminal.
LEARN MORE