What to Expect When You're Targeted by China's Antitrust Cops
By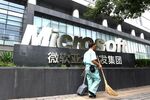 These are busy times for Chinese officials in charge of fighting monopolies. Last week, antimonopoly investigators swooped in on Microsoft offices in four cities, seizing documents and computers. The government's State Administration of Industry and Commerce followed up with a warning to Microsoft on Monday. "The SAIC formally told Microsoft not to interfere in the investigation process," the China Daily reported the administration announcing on its website.
Other companies are also learning it doesn't pay to mess with regulators charged with cracking down on monopolies. Among the multinationals in the sights of Chinese trustbusters are Mercedes-Benz and a dozen Japanese makers of auto components. And on Wednesday, the Xinhua news agency reported the government will soon punish Chrysler and Audi for allegedly monopolistic behavior. Meanwhile, an investigation of Qualcomm continues.
In a country not known for the transparency of a finely tuned legal system, stumbling into an antimonopoly investigation in China can be particularly daunting. Three government agencies are responsible for enforcing the antimonopoly law that went into effect in 2008. The Ministry of Commerce looks at potential mergers and has the power to nix deals it deems would result in a company that could threaten competition. It has used that power sparingly: It blocked Coca-Cola's planned $2.4 billion acquisition of China Huiyuan Juice Group in 2009. More recently, the ministry's regulators in June nixed a proposed three-way alliance among Danish shipping line Maersk, Dublin-based Mediterranean Shipping, and French shipping company CMA CGM.
For most companies in China, the bigger and scarier threats come from the two other agencies responsible for policing anticompetitive behavior, the National Development and Reform Commission and the State Administration for Industry and Commerce. The NDRC tends to focus on investigating violations related to pricing, with the SAIC looking at other potential abuse of market dominance. The NDRC has more resources, says Janet Yung Yung Hui,  a partner at Chinese law firm Jun He, and has the reputation "as the harder and more aggressive" of the two. The NDRC is responsible for some of the most high-profile investigations, such as those of baby-formula producers and eyeglass makers.
And while many targets are foreign, the regulator has gone after local companies, too. For instance, the NDRC launched a probe of China Telecom and China Unicom's broadband services in 2011.
The first time many targets learn they're under investigation is when investigators from the NDRC or the SAIC show up at their offices demanding information. These "dawn raids" are popular among regulators, says Scott Yu, a partner with Zhong Lun Law Firm in Beijing, and they've used them to get information from Microsoft, Qualcomm, and Mercedes. Regulators like these raids because they preserve the element of surprise, preventing companies from ditching documents. Moreover, they're relatively easy to initiate, since the NDRC and the SAIC don't need to get approval from a judge or any other outsider before conducting the raids.
Targets of these raids are allowed to consult with their lawyers. But companies must think twice before saying no to any regulator's demands. "You will not want to have the problem of obstructing the investigation, so you have to cooperate," says Hui. "Generally, you have to show a good attitude."
That doesn't mean companies are defenseless. After a dawn raid, regulators take their time, reviewing the documents they have collected and sometimes demanding more. At this point, the regulators have made clear what issues they're investigating. They might also provide companies with a chance to offer explanations.
What happens after that is not always clear. There's no limit to how long investigations can last, so probes can drag on for months or years. And when they finally end, the NDRC and SAIC don't have to disclose how they determine cases. "We really do not know their internal system about how they make their decisions," says Hui. If the regulators find companies have violated the antimonopoly law, penalties can range from 1 percent to 10 percent of their revenue from the prior year.
Does a company have any recourse if it wants to challenge the ruling? Not really. It can ask for an administrative review, but the agency in charge of doing the review—the NDRC or the SAIC—is the same one that made the conclusion in the first place. Since the regulator is unlikely to decide its initial ruling was incorrect, companies also have the option of going to court. That is not too promising, either. "Legally speaking, you are entitled to do that," says Hui. But, she adds, "it's not that common in China to sue the regulator."
Before it's here, it's on the Bloomberg Terminal.
LEARN MORE