Slim Wins $1 Billion in a Month as Stake Jumps: Chart of the Day
Patricia Laya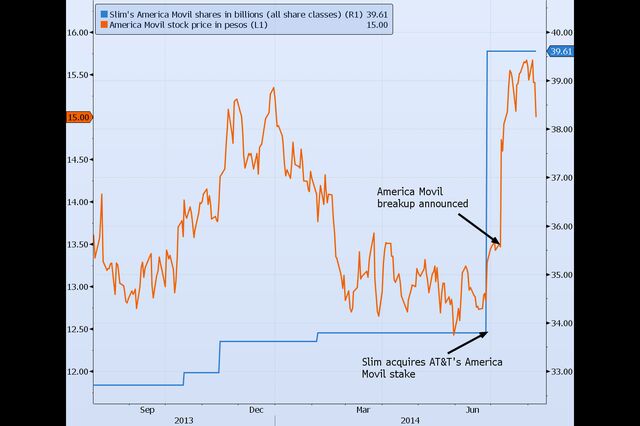 Billionaire Carlos Slim's decision to buy out AT&T Inc.'s stake in America Movil SAB has reaped him almost $1 billion in profits in just over a month.
The CHART OF THE DAY shows the recent gain in America Movil shares just after Slim boosted his holdings in his flagship company by buying out AT&T Inc.'s 8.3 percent stake at the end of June. Eleven days later, he announced a sale of part of America Movil's Mexican assets that could be worth $4 billion or more, propelling shares 16 percent for the month of July, leading gains in Mexico's benchmark IPC index.
The stake Slim acquired from AT&T for $5.57 billion was worth $6.54 billion at yesterday's close -- a 17 percent gain. Investors cheered the breakup because it means America Movil could avoid tough new regulations enacted in a new law designed to stimulate competition in the telecommunications industry dominated by Slim, the world's second-richest person.
Slim made "a good decision in terms of returns" by buying AT&T's shares, said Valeria Romo, an analyst with Banco Monex SA. The move inspired confidence from other shareholders that Slim was sure about the company's direction even as regulators in Mexico were enacting harsher restrictions, she said.
"By purchasing the stake, there's a message that says, 'We'll continue our strategy,' which is a fear that had been punishing the shares," she said.
America Movil is still determining which assets it will sell, and the only requirement it has is to reduce the company's subscriber base, which includes 70 percent of Mexico's wireless accounts and 80 percent of its landlines.
Romo has a target price of 18.50 pesos on the shares for 2015, 23 percent above yesterday's close and higher than the 15.59-peso average of 15 analysts compiled by Bloomberg. While lower market share from the breakup will take a toll on the company's earnings next year, the asset sale will unlock value for America Movil as it invests in new businesses, such as pay TV, Romo said.
Before it's here, it's on the Bloomberg Terminal.
LEARN MORE