Redesigning the Paint Can to Save Millions of Gallons of Paint
by
Paint is one of those things you always buy too much of and stow in the utility closet for future touch-ups, only to find that when you're ready to use the remainder, it's turned into a dry, cakey mess. That's the fault of how the paint can is designed, says a student who has devised an eco-friendly packaging that reduces paint waste.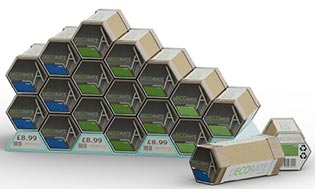 Paint waste may not seem like an environmental scourge, but the Environmental Protection Agency estimates that 65 million to 69 million gallons of leftover paint are discarded each year. The toxic chemicals found in most paint are harmful to the environment. When these chemicals react with oxygen in the presence of sunlight, they can form bad ozone, which contributes to the greenhouse effect that causes global warming. Alec Machin, a student at Britain's University of Nottingham, says much of that waste can be avoided by replacing the traditional aluminum paint can with a container resembling a tube of toothpaste, which would allow paint to be squeezed out but prevent air from coming in.
Machin's solution is a rethink of the flat-lidded containers found at your neighborhood Home Depot. The paint is housed in a hexagonal cardboard box lined with a bag made of metal polymer film, a material commonly used in food packaging and space blankets. When the tube is squeezed, paint pours out through a one-way valve, which blocks oxygen from seeping in. Machin theorizes that the design would preserve paint longer than the old metal can, which hasn't been upgraded since 1868.
"My main feeling is that paint itself is the most environmentally damaging thing," the designer says. "There's an awful lot of carbon released in the production of paint, a lot gets tipped in land waste, [and] in traditional paint cans you have aluminum or new plastic tins that can't be recycled easily because they have to be washed in solvent."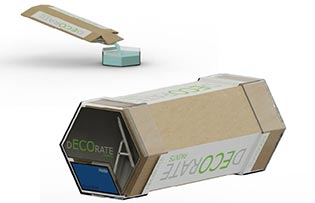 His cardboard packaging can be recycled without going through treatment, and the bag can either be reused or treated prior to getting recycled. The smaller 1-liter container—most cans hold a few liters—also gives consumers greater control over the amount of paint they buy.
Machin won a student award in a global design competition run by the U.K.-based charity RSA, which challenged emerging designers to come up with innovative solutions to social problems. He says he has been contacted by companies interested in using the packaging for fruit juice, but there are no firm plans to put the design into production yet. He estimates each unit would cost 38 pence, or 64 cents, to make.
Machin declined to name which companies he's been talking to but says he'd like to sell his design to U.K. paint and decorating stores such as Crown Paints or Homebase. He plans on taking six months off from school to get his product off the ground.
Before it's here, it's on the Bloomberg Terminal.
LEARN MORE