Why Lions Gate Really Needs Katniss to Survive in a Theme Park
by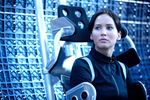 Turning Hunger Games into a theme park experience sounds like no fun at all. Concessions, one assumes, would be scarce.
But Lions Gate Entertainment, which owns the franchise, said on Friday that it is "deep into conversation" with potential theme-park partners on four continents. Lions Gate has already milked the storyline as much as it can, stretching a three-book series into four films. The finale hits screens November 2015, which means the financial hangover will set in about a year later, when the on-demand rentals and DVD sales start to wane.
The company can sell only so many toy bow-and-arrow sets after the massive wave of revenue washes away. But theme parks have a much longer yield curve. Disney still has rides based on its Toy Story, to say nothing of its "Swiss Family Treehouse" and "Honey I Shrunk the Kids: Movie Set Adventure." That last film came out 25 years ago; the youngsters scrambling around its theme-park spinoff probably haven't even heard of it.
Lions Gate's catalogue of material is dwarfed by Disney's, but Lions Gate does have a bit of a lock on teen angst. In addition to the Hunger Games, it owns the Twilight franchise and is hoping for a similar following for its Divergent$151 million in U.S. theaters since its March debut. Lions Gate also has a Power Rangers movie in the works and a film called Gods of Egypt, which sounds as if it will lend itself particularly well to roller-coaster and video-game spinoffs.
Execution, however, could be difficult. Building a great roller coaster takes a different skill set than creating something thrilling for the cinema. Disney, it should be noted, is a resort company first and a moviemaker second. In the past five years, it collected 30 percent of its revenue in its parks vs. 15 percent via its film studio. The parks were more profitable, too, with an operating margin of 14 percent vs. 12 percent in the movie division.
Of course, the real money is in merchandise. Disney realizes a 22 percent profit margin on its consumer products. As Lions Gate looks at theme parks, the lesson is clear: Go heavy on the Hunger Games gift shops.
Before it's here, it's on the Bloomberg Terminal.
LEARN MORE