Former POW McCain Says Time to Lift Vietnam Weapons Ban
John Boudreau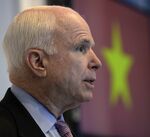 U.S. Senator John McCain, who spent almost six years as a prisoner of war in Vietnam, vowed to push Congress to lift a ban on the sale of lethal weapons to the Southeast Asia nation.
McCain, who along with Senator Sheldon Whitehouse met with Vietnamese government officials in Hanoi yesterday, said that the U.S. is willing to step up military cooperation with its former enemy and that the weapons ban could be lifted as early as September.
"Now is the time for Vietnam and the United States to take a gigantic leap together," McCain said at a press conference in Hanoi.
Removing the 30-year-old ban would boost military links as the Obama administration refocuses on Asia and Vietnam faces escalating tensions with its fellow communist nation. Deadly anti-Chinese riots broke out in Vietnam in May after China placed an oil rig in disputed territorial waters, adding to animosity between the neighbors since China backed Vietnam in its war with the U.S. that ended in 1975.
"It would show China that its actions have consequences," said Carlyle Thayer, an emeritus professor at the Australian Defence Force Academy in Canberra. "The central topic in Vietnam is how to get China to stop doing what it's doing."
Almost 40 years after the end a war that killed almost 60,000 American serviceman and probably more than 1 million Vietnamese, the U.S. and Vietnam have been moving closer, with trade and investment growing.
Human Rights
McCain, a Republican member of the Senate Armed Services Committee and Foreign Relations Committee, had previously opposed lifting the ban because of Vietnam's human rights record. While more needs to be done, Vietnam has improved in that area, he said yesterday.
A push by McCain "should carry weight," Thayer said.
"The symbolic effect is Vietnam is no longer ostracized," he said. "It becomes like a Malaysia or an Indonesia, countries the U.S. has no qualms about selling appropriate weapons. For Vietnam, it opens up the Sears and Roebuck Catalog they can go through."
Vietnam's leaders face growing pressure from its citizens to take action against China after weeks of clashes at sea around the contested oil rig, resulting in the sinking of a Vietnamese fishing boat in late May. A July 28 letter signed by 61 prominent members of the Communist Party to Vietnam's Central Committee called for more political openness and for the country to "escape" from its reliance on China.
Before it's here, it's on the Bloomberg Terminal.
LEARN MORE