Big-Money Effort to Oust Tennessee Judges Fails
By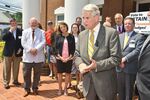 National conservative groups and Tennessee Republicans came up short on Thursday in their efforts to reshape the state's Supreme Court, as Tennesseans voted to give all three justices on the ballot another eight years in office.
While winning has been a nearly foregone conclusion for Tennessee justices in years past, as I recently reported, this year was very different. More than $1.4 million was spent on TV ads—up from zero in Tennessee's last such election. National groups such as Americans for Prosperity, which is backed by the billionaire Koch brothers, and the State Government Leadership Foundation, which is affiliated with the Republican State Leadership Committee, targeted the incumbents.
But Tennesseans nevertheless voted to keep the three justices, with each winning more than 56 percent of the vote. Chief Justice Gary Wade, one of the three, chalks his victory up to three factors. First, he says, the incumbents "were forewarned and forearmed," and "took an active role in defending the record of the Tennessee Supreme Court," rather than trying to stay above the fray like the Iowa Supreme Court justices who were ousted in 2010 for ruling in favor of same-sex marriage. Second, says Wade, voters were put off by the appearance of a partisan effort to take control of the court. And third, he cites the justices' broad support from Tennessee attorneys, who "felt that their entire profession was under fire and assault."
It turns out, in the end, the most money spent on TV ads in the race came not from conservative groups but from the justices' campaigns and supportive groups—an example of outside spending increasing the total spent by all parties. The conservative groups say that even though they didn't manage to unseat the justices—who became targets because the attorney general they appointed, Bob Cooper, decided not to join a multistate challenge to Obamacare—they still scored a victory. "Any decision that they make going forward, they know they have conservative groups that will hold them accountable," says Andrew Ogles, Americans for Prosperity's Tennessee director.
Before it's here, it's on the Bloomberg Terminal.
LEARN MORE