Wendy's Has a Plan to Storm Canada
By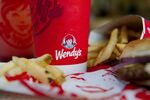 Wendy's hasn't managed to expand in Canada for about 10 years. The burger chain has 367 restaurants in the country, 137 of which are company-owned. To spur growth, it now plans to sell all of them to franchisees by early next year. Wendy's is betting that franchisees know the Canadian fast-food market best. The goal is to add more than 100 restaurants in Canada by 2020.
"We believe a franchise model will help us penetrate the market more quickly than under a company-operated restaurant model," Chief Executive Officer Emil Brolick said on an earnings call on Thursday. Wendy's plans to work with franchisees to renovate about 60 percent of its Canadian restaurants over the next six years to make sure the brand gets updated there.
In terms of store count, Wendy's is the third-largest burger chain in Canada, well behind McDonald's and, surprisingly to many in the U.S., A&W. Canada's largest chain overall is coffee seller Tim Hortons, with 3,630 locations. Wendy's actually has a joint real estate venture with Tim Hortons called TimWen, in which the burger chain leases facilities for Wendy's/Tim Hortons combo restaurants in Canada. The 42 combo locations are part of Wendy's franchise plan, too.

By unloading its Canadian stores, Wendy's will also be able to focus on its U.S. business. "Alongside the new Canadian growth initiative, our goal is to return our U.S. restaurant system to positive net restaurant growth by 2016 at the latest," Brolick said on the earnings call. The chain had 5,791 restaurants in the U.S. last year, a number that has steadily declined in recent years even as same-store sales improved.
Before it's here, it's on the Bloomberg Terminal.
LEARN MORE