pursuits
Video Games Can't Afford to Ignore Women
With mobile gaining share, PC elves and orcs have to grow up
By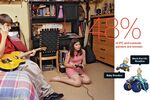 In some ways, World of Warcraft is a diverse place, with humans, orcs, elves, and gnomes fraternizing on the game's digital battlefields. But pretty much all of the fantasy world's female characters have two things in common: skimpy clothing and absurd body proportions. That may change as the decade-old king of online role-playing games bleeds subscribers. Last month, Mike Morhaime, chief executive officer of Warcraft developer Blizzard Entertainment, e-mailed a blogger who had written that she could no longer play the company's games because of their sexist overtones. "We are challenging ourselves to draw from more diverse voices within and outside of the company and create more diverse heroes and content," Morhaime wrote in the message, which the blogger put up on her site. A Blizzard spokesman confirmed its authenticity but declined to make the CEO available for an interview.
For years, executives at PC and console game companies, including Blizzard, have dismissed complaints that women characters are treated less like people than power-ups. But they're starting to show more interest in cultivating female players as their audience moves to cheap or free games on smartphones and tablets. World of Warcraft had 6.8 million subscribers as of June 30, a 29 percent decline from the start of last year, data compiled by Bloomberg Businessweek show. Research firm Gartner projects that by 2015 revenue from mobile games will surpass that of PC games, and researcher InMobi says women make up 61 percent of mobile gamers in the U.S. One mobile game, Kim Kardashian: Hollywood, became developer Glu Mobile's top-grossing product almost overnight.
PC and console game makers have to pay attention to that momentum, because 48 percent of their U.S. gamers are women, according to the Entertainment Software Association, an industry trade group. Call of Duty, the biggest game franchise of the last few years, added female soldiers to its multiplayer gun battles for the first time in November. Activision Blizzard, Call of Duty's publisher and the parent of the Warcraft maker, promises that women will feature prominently in the next Call of Duty game, set for release on Nov. 4.
Game designers and engineers are overwhelmingly male and have been slow to change. Nintendo's chief designer, Shigeru Miyamoto, told industry blog Kotaku last year that he was putting more women in games, including the Mario Kart franchise. Not all the additions are full-fledged characters, though: Mario Kart 8 , released in May, includes eight female characters out of 30, but that's with baby versions of three near-identical princesses and one metal-skinned version. Nintendo hasn't announced plans for a new game in the Metroid series, its only one with a heroine. Still, it's significant that Miyamoto, who made the macho guy-saves-princess trope a gaming cliché with Donkey Kong and the Super Mario and Legend of Zelda series, is starting to think differently. "Our developers take the time to include a wide array of characters for people to choose from," says Cindy Gordon, vice president for corporate affairs at Nintendo of America.
Ubisoft Entertainment, which sells the summer's hottest console game, Watch Dogs, said in June that it had dropped plans to include women characters in its next big title, Assassin's Creed Unity. Technical Director James Therien says women "would have doubled the work" of character modeling, an assertion former Ubisoft designer Jonathan Cooper, who worked on Assassin's Creed games, calls "bulls-‍-‍-." Spokeswoman Heather Pond says, "We recognize the valid concern around diversity in video game narratives."
In World of Warcraft, part of the problem for women is harassment from other players. "People will send you messages. People will ask you to do a little dance. People will ask you to do all kinds of stuff," says Veronica Belmont, the host of an online sci-fi and fantasy talk show who quit the game two years ago and says many of her friends have, too. In Warcraft's fantasyland of Azeroth, even the female animal characters have creepily buxom physiques. And how much protection can you get in a chain mail bikini?
Blizzard has a fifth Warcraft expansion pack due out on Dec. 20, but it won't say how it plans to address criticism of its portrayal of women. "This will be an ongoing process for us—it's likely that we will make mistakes again in the future, but we will continue to listen, learn, and grow," CEO Morhaime wrote in his e-mail. "There is no reason why inclusivity should come at the expense of an amazing game experience."
Before it's here, it's on the Bloomberg Terminal.
LEARN MORE