Tesla in China: Slow Sales Acceleration and a Brand-Name Dispute
By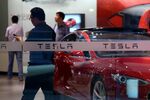 Elon Musk, Tesla Motors' chief executive, has big hopes for China, a country that should be a natural for his electronic cars. The world's largest auto market has notoriously awful smog problems, and the Chinese government has made the pollution fight one of its top priorities. Last month, for instance, China's State Council agreed to exempt electric cars (as well as plug-in hybrids and fuel-cell vehicles) from the 10 percent tax normally assessed on new autos. And the government on July 13 said electric cars would make up at least 30 percent of its vehicle purchases by 2016.
That creates opportunities for Tesla. China is "genuinely committed to electric cars," Musk said during a call with analysts last month. "It's not just about favoring local manufacturers."
There's been one problem: While Tesla Motors started Chinese deliveries of the Model S in April, the Palo Alto (Calif.) carmaker was proceeding without certainty that it had rights to its name in the country. A Chinese businessman running a skin-care company had registered the rights before Musk and his team.
Other companies, including Apple, have had to contend with similar nuisances in China. Despite the government's penchant for targeting multinationals such as Microsoft and Mercedes-Benz for alleged antimonopoly violations, China has a good track record in allowing foreign companies to triumph over local-name squatters.
A court in Beijing announced on its official microblog this week that Tesla had reached a deal with Zhan Baosheng, who had sued the American company over the trademark dispute. Zhan agreed to waive his claim to the Tesla name, and Musk's company in turn agreed to withdraw its claim for compensation from Zhan.
Welcoming the agreement, Tesla diplomatically praised Chinese authorities "for laying the groundwork" for a deal. The company now "looks forward to continuing to grow its business in China and to expanding the impact of electric vehicles in this very important market."
But Tesla won't be expanding too quickly. "We can drive demand up at will, but if we drive it up too much, then people get upset with us, because they wait too long for the car," Musk said on the July 31 call with analysts. "When I was visiting China, the only unhappiness I saw was because customers were upset about waiting too long for their car. We'd better not stoke demand in that situation."
Not that China has been a red-hot market for electric cars so far. Indeed, for all the official enthusiasm for green vehicles, sales have been lackluster. The government had a target of half a million new energy vehicles by next year, but in a report published last month, JPMorgan analysts said volume would reach only 261,000. In part that's because the government has been slow to create the infrastructure for the industry to take off. China has only recently implemented its own standards for the charging of electric vehicles.
"The challenge was that most standards weren't defined until about a month ago," Musk told analysts. "So it's a little tricky to adhere to something that has not yet definitely been announced." Now that China has announced its standards, added Tesla Chief Technology Officer Jeffrey Straubel, meeting them will be "relatively simple."
Tesla's trademark breakthrough therefore comes at the right time. Even though the Chinese market has been underwhelming so far, demand for new energy vehicles should start to pick up soon. JPMorgan predicts China will reach the half-million target in 2016 and top 1.1 million by 2020.