Tech CEO Quits to Spend Time With His Family—Really
By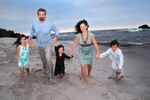 The Alpha Dad movement has been waiting a long time for this day. A high-profile man in the business world has finally gone public with a long-held secret of working fathers: Men struggle with work-family balance, too.
Max Schireson, chief executive officer of MongoDB, a $1 billion database company, yesterday announced he was leaving his position. In a blog post, he said he found combining his role as a high-level executive with being the kind of dad that he wants to be almost impossible—something that women executives have known and talked about for years. In the piece, titled "Why I am leaving the best job I ever had," he writes:
Earlier this summer, Matt Lauer asked Mary Barra, the CEO of GM, whether she could balance the demands of being a mom and being a CEO. The Atlantic asked similar questions of PepsiCo's female CEO Indra Nooyi. As a male CEO, I have been asked what kind of car I drive and what type of music I like, but never how I balance the demands of being both a dad and a CEO.
He went into the details of his personal life: three kids from ages of 9 to 14; a demanding travel schedule and a punishing New Jersey-to-Palo Alto commute; a wife with an important career of her own. Finally, he wrote:
A few months ago, I decided the only way to balance was by stepping back from my job. … Right now, I choose to spend more time with my family and am confident that I can continue to have an meaningful and rewarding work life while doing so.
The most remarkable thing about all this is that Schireson made the reasons for his life change so public, as men in the workplace are discouraged from making family a priority and from talking about it openly. Some working fathers are trying to change that.
As Bloomberg Businessweek reported in a cover story last year, men are increasingly demanding flexibility to reconcile the conflicting demands in their lives, something that working women have been fighting for (with mixed success) for decades. Schireson's honesty should be celebrated. Now that the other half of the workforce is starting to get involved in the campaign, there's much greater reason for optimism that American workplaces and public policy will begin to change to reflect the way the world really is, rather than the way it used to be.