The Fall of the House of Espírito Santo
Portugal's banking dynasty collapses under the weight of its debt
by and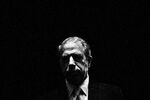 The Espírito Santo family's Portuguese banking dynasty was built over more than a century. It fell apart in a matter of months. In July three of Banco Espírito Santo's parent companies sought protection from creditors. The family's top executive, Ricardo Espírito Santo Silva Salgado , 70, stepped down as the chief executive officer on July 14. He was later detained for questioning and released on €3 million ($4 million) bail in a tax fraud and money-laundering probe—not connected to his role at the bank. He has denied wrongdoing. On Aug. 3 the lender founded by his great-grandfather was taken over in a €4.9 billion bailout.
The Bank of Portugal, the country's central bank, has transferred most of Banco Espírito Santo's assets and deposit-taking operations to a new company, Novo Banco, into which it will inject money from its resolution fund. The industry-financed fund will pay for the rescue with the help of a loan from the Treasury to be repaid by Novo Banco's eventual sale. "I never imagined things could turn out so badly," says José Capela, a retired airline pilot who lives in the coastal town of Cascais, also home to Salgado and many other Espírito Santo family members. "It's very sad to see the Espírito Santo financial empire crumbling."
Three days before the takeover, the Bank of Portugal said there were indications of "seriously harmful acts of management" at the lender and that Banco Espírito Santo had failed to comply with central bank directives. It's reviewing the actions of Salgado and former and suspended bank executives in charge of audit, compliance, and risk management. In a statement on Aug. 4, Salgado said he wouldn't comment until he sees the results of Bank of Portugal's forensic audit. Several other family members declined to comment. "I was very surprised that they went down the route of a state bailout so quickly," says Lutz Röhmeyer, a money manager at Landesbank Berlin Investment, which holds Banco Espírito Santo bonds. "That suggests that the bank's situation was much worse than described."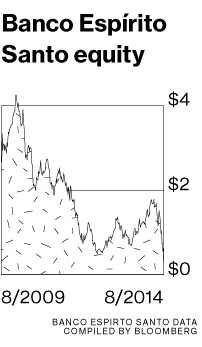 The family's role in Portuguese finance started when José Maria Espírito Santo opened a caza de cambio on a small street in Lisbon in 1869, where he bought and sold credit securities and lottery tickets. His heirs transformed the Espírito Santo Group—the family name means Holy Spirit in Portuguese—into a sprawling global empire with interests in real estate, property, agriculture, tourism, and health care.
Along the way, they suffered a near-fatal setback. After Portugal's 1974 revolution, when their bank was nationalized, many members of the family fled the country. With the help of powerful friends abroad—including David Rockefeller, who extended a credit line—the Espírito Santo family managed to rebuild its finances before returning to Portugal to regain control of the bank when the government began privatizing companies in 1989.
Since then, the bank has extended its activity to 25 countries; its profits have helped the family set up dozens of nonfinancial businesses, ranging from a hotel chain in Portugal and Brazil to a farm on more than 333,000 acres in Paraguay. While Europe's economic crisis raged, the group continued its expansion. One of the family's most ambitious real estate projects in Portugal was Herdade da Comporta on a finger-shaped peninsula south of Lisbon. The patch of land is covered with rice fields and bordered by a 7-mile stretch of sandy beaches.
In April 2013, Rioforte, which holds the family's nonfinancial investments, announced plans for the Comporta Dunes resort in a pine forest near the beach, featuring a luxury hotel and spa built by the Aman Resorts chain. Comporta Dunes would also have 51 vacation homes to be marketed mainly to German, Austrian, and Swiss buyers.
While the family's wealth grew, reaching more than €3 billion in the second quarter of 2007 based on its stake in Banco Espírito Santo alone, its intertwining interests helped bring about its downfall. "The family eventually lost track of all these different businesses," says Ricardo Cabral, an assistant professor of economics at the University of Madeira.
The problem wasn't with the businesses, but with the way the holdings were financed. When the financial crisis hit, borrowing costs soared. The family avoided raising money from outside investors, which would have diluted its control, instead borrowing more. "It kept on postponing the problems by rolling over debt with short maturities and at high interest rates," Cabral says. After Portugal received a European Union-led bailout in May 2011, Banco Espírito Santo was the only one of the country's three biggest publicly traded lenders that didn't request state aid. That was "surprising, because the financial situation of Portugal's banking system was weak," Cabral says. "Either the controlling shareholders misread the country and the bank's economic situation, or they were hiding something."
For all its business interests, Espírito Santo family members have maintained a low profile. Salgado is a descendant of Ricardo Espírito Santo Silva, who ran the bank from 1932 to 1955 and became one of former dictator António de Oliveira Salazar's main financial advisers. Very little is known about Salgado's personal life. "All I can say is that my life begins at 8:30 a.m. in the bank and ends at 10 p.m. in the bank," he was quoted as saying by Portugal's Jornal de Negócios newspaper in May.
"The Espírito Santo family has been through tougher times," says Jorge Arnoso, a friend of the Espírito Santos who lives in Cascais. "I'm sure they'll manage to overcome this crisis." Still, in the near term the family will be unwinding more than building.
Some of the group's assets have already gone on the block. A Swiss private bank has agreed to acquire a part of Banque Privée Espírito Santo's private banking business. Grupo Pestana, one of Portugal's biggest hotel groups, in partnership with U.S. and European private equity funds, is bidding for Rioforte's Tivoli Hotels & Resorts, Portuguese newspaper Sol reported on July 11, citing Chairman Dionisio Pestana. "Ricardo Salgado was nicknamed the owner of everything," says António Silva, an 80-year-old pensioner, as he flicks through the pages of a newspaper at a cafe in Lisbon across the street from the Banco Espírito Santo building. "The truth is that while the Espírito Santo Group looked solid, it had feet of clay."
Before it's here, it's on the Bloomberg Terminal.
LEARN MORE