Down and Out in Post-Nokia Finland
A struggling tech industry offers few options for skilled workers
By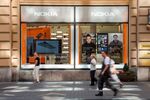 When Jouni Lindman went to work for Nokia in 1998, the company seemed unstoppable. The world's biggest maker of mobile phones and one of Finland's top employers at the time, Nokia was on its way to becoming Europe's most valuable company. Then Apple introduced the iPhone in 2007, and Nokia's fortunes turned. In June of last year, Lindman, a manager who oversaw a group of about 100 software professionals around the world, accepted a severance package. The company had gone through several rounds of massive layoffs.
Lindman's search for a job that would pay him as much as he earned at Nokia came up empty. After enrolling in a heavy-vehicle training course, he signed a contract in May to work as a bus driver in Tampere, about 100 miles north of Helsinki. "I thought I'd make myself useful in any way possible," Lindman says. "With about 20 years left in my career, I'm willing to bet that drivers will be needed over that time." He estimates his family's net income will be close to what it was before his layoff, if his wife gets a job.
Finland's skilled workers face a bleak job market as they collect unemployment and, like Lindman, look to reenter the workforce. The economy has suffered in large part from troubles in the country's two leading industries: technology and paper. Nokia lost the battle to control the smartphone market to Apple and Samsung; and Finland's two big pulp and paper manufacturers, Stora Enso and UPM—the biggest in Europe—have been hurt by from declines in print media. Economists say things will only get worse before they get better.
Since plunging 8.3 percent in 2009, Finland's gross domestic product, at €201 billion ($269 billion), hasn't returned to precrisis levels. Economists surveyed by Bloomberg say the Finnish economy will stagnate or drop in value this year, marking three consecutive years of decline.
As Finland's jobless rate has increased—it rose to 9.2 percent in June from 7.8 percent a year earlier—state coffers have been burdened by paying unemployment benefits. Claims soared 17.5 percent to €4.15 billion last year, the highest level since the 1990s, according to the country's Social Insurance Institution. The average unemployment payment, tied to a person's previous earnings, was €67 a day last year, up from about €55 in 2008.
"There is no dramatic turn in sight this or next year; it'll stay steadily weak," says Juhana Brotherus, an economist at Danske Bank in Helsinki. "Hidden unemployment, underemployment, and greater retirement numbers have held back the official unemployment figures."
Nokia, which had 125,000 workers in 2008, has cut its ranks by 76,000 worldwide over the past six years. The company has invested more than $60 billion in research and development over the past 10 years but has produced few successful products recently. Last September, Nokia sold its handset business to Microsoft for $7.2 billion to focus on network equipment and patent licensing. The move has returned the company to profitability, but its smaller presence means it can't carry the nation as it did at its peak. Nokia once accounted for 4 percent of GDP.
In July, Microsoft said it will cut 18,000 jobs around the world, including 1,100 from its Nokia operations in Finland. The number represents about 20 percent of the tech company's workforce in the country.
Jari-Pekka Teurajärvi, a software engineer and a father of four, has worked for Nokia for 12 years. As part of its announced cuts, Microsoft plans to close the smartphone development center in Oulu where he works. The town, about 350 miles north of Helsinki with a population of about 200,000, had one of the highest unemployment rates in the country, even before the recent cuts. "The truth is that I have almost 30 good work years left," he says. "I can genuinely make a second career. I just need to figure out where and what."
Finland received an aid package in February from the European Globalisation Adjustment Fund to support laid-off Nokia workers. Finance Minister Antti Rinne has said his government will introduce a program to help Oulu's unemployed workers.
Nokia has provided funds for outgoing employees who pitch and successfully set up businesses. It has contributed to about 400 companies since 2011.
Unemployment may continue to rise as Russia's slowing economy weighs on Finland. Russian tourists no longer arrive in droves, and about 10 percent of Finnish exports to its eastern neighbor are threatened by the escalating crisis in Ukraine, more so since the shooting down of Malaysian Airlines Flight 17. European Union governments agreed on wide-ranging sanctions against Russia on July 29, restricting the export of equipment to modernize the oil industry and banning contracts for equipment with military uses. In Finland, "the clearest risk for growth is Russia," Danske Bank's Brotherus says. "Should the events in Russia lead to a full-blown crisis shaking their whole economy, nothing in our economy is safe either."