Mike Ilitch Wants to Give Detroit a Happy Hockey Neighborhood
By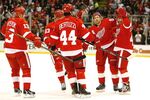 No good deed goes unpunished, as Detroit pizza and sports mogul Mike Ilitch might well be thinking this week.
The 85-year-old owner of the Little Caesars pizza chain, Detroit Tigers, Detroit Red Wings, and vast swaths of blighted Motown land has proposed to build what Bloomberg News reports is an "instantaneous neighborhood" surrounding a new hockey arena. (See my profile of Ilitch, and Michigan's other pizza baron Tom Monaghan, here.) The $650 million plan envisions new apartments, lofts, offices, stores, and restaurants sprouting around an 18,000-seat rink with a rooftop that glows with programmable displays.
Ilitch and his family are taking heat for seeking public funding for the project. Critics say the billionaire shouldn't get a penny from a bankrupt, crime-ridden city that can't afford enough police officers or streetlights. It's hard to argue with that rhetoric.
But it's harder to argue that Detroit (my hometown) doesn't need some saving. Ilitch seems to be volunteering, as he did in the late 1980s when he moved Little Caesars' headquarters downtown while other companies were bailing out. He has renovated the landmark Fox Theater, paid for about 60 percent of Comerica Park, home to the Tigers, and—no small matter in a place known as "Hockeytown"—spent heavily on a Wings team that has won four Stanley Cups since 1997. There's also the $292 million he recently committed to keep Tiger slugger Miguel Cabrera.
The new project calls for the public to pay more than 50 percent of the hockey arena's construction cost. Detroit's Downtown Development Authority will own the building and lease it to Ilitch essentially rent-free for as long as 95 years. Ilitch will pay the authority $345 million over the first 30 years while collecting all ticket, concession, parking, and naming-rights revenue. And he'll invest, along with others, some $200 million developing the neighborhood.
The largely untested theory at the plan's core is that the residential and retail stuff that usually comes after a new stadium will now come first. The new neighborhood—Wingville? Hockey Heights?—will lure people who'll stay, pay taxes, and spend money. Optimally, that will drive pedestrian traffic from the rink's Midtown neighborhood to downtown proper, several blocks away.
There's reason for skepticism. Comerica Park and Ford Field, home of the NFL's Detroit Lions, have stood near the area of the proposed project for years without generating any tangible renaissance. Fans come downtown, cheer on their teams, and return to the suburbs. Some bars and restaurants close on non-game days. Ilitch's critics say the hockey arena won't change that.
It's up to Ilitch, wife Marian, and son Christopher, who runs the family's parent company, to prove the naysayers wrong. The chirping might die down, too, if Ilitch can deliver another World Series trophy or Stanley Cup—the sooner the better. At his age, he might not be around for the first faceoff at the new rink in 2017.
Before it's here, it's on the Bloomberg Terminal.
LEARN MORE