The World's Creepiest Ice Cream
by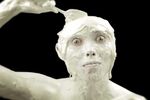 Two years ago, Philadelphia ice cream maker Little Baby's Ice Cream published a Web video in which an androgynous model covered in marshmallow fluff scooped the gooey substance from its skull and ate it with a spoon. It was hard to look at, and hard to look away: The ad was viewed more than 7 million times on YouTube. Another video showing YouTube commenters reacting to the initial ad got as many views.
Little Baby's, which opened its first retail location two days after the video was posted, was flooded with hate mail. "All great art is divisive," says Pete Angevine, a co-founder of the company who once played drums in a band called Satanized. "For an hour, or maybe a year, we were probably the most hated ice cream in the world."
In other words, mission accomplished.
Angevine, 30, started Little Baby's in 2011 with Martin Brown and Jeffrey Ziga, thinking it would be one part small business, one part bizarre art project. They made ice cream with milk from a local dairy and sold it from a modified tricycle. They cooked up weird flavors (the current menu includes Earl Gray Sriracha and cucumber dill) and vegan ice cream made with coconut milk.
The trio met in the Philadelphia music and arts scenes. (They started a Weezer cover band called Freezer.) A hotline lets customers request flavors that challenge the notion of what ice cream can be. "You can put anything in this vessel of frozen cream and sugar, and people are going to be open-minded to it," Angevine says. Among the strange creations the company has brought into the world: Green apple garlic, Maryland barbecue, tamarind yerba mate, and pizza.
Meanwhile, the business has outpaced the founders' expectations. They have two shops and four tricycle stands. Angevine uses his Toyota Prius to deliver pints to two dozen specialty grocers. The group employs about 25 workers, though the staff will shrink when the summer ends. Last year, sales were about $500,000. The company has a plan to distribute into neighboring states in the months to come.
Little Baby's dual-purpose mission as small business and performance art has given the company two separate identities. In Philadelphia, the company is known as a local business that makes one-off flavors for cultural events, such as an apple-tasting party at an urban farm called Greensgrow and a charity fundraiser at craft brewer Yards Brewing Company.
Online, the company is still known for its creepy advertisements. Those include a telescoping image of the marshmallow-covered model sitting in an ice cream cone while a larger version of herself (or himself?) licks the fluff off the back of her head. In another ad, posted on YouTube at the end of last week, an actress holds a cone as tongues extend from her eye sockets. "Ice cream is a feeling," the narrator says.
Before it's here, it's on the Bloomberg Terminal.
LEARN MORE