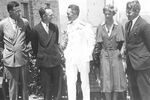 Sir Ernest Shackleton thought whisky was a necessity on a polar expedition, a packing detail that wasn't lost on the intrepid marketing team of Diageo. They bravely slapped "Explorers' Club" on a select batch of Johnnie Walker. Now, like Shackleton, they probably have some regrets.
A New York Supreme Court judge has ruled that the liquor giant illegally traded on the name of the Explorers Club, a fraternity of famous globetrotters that keeps a dusty headquarters on Manhattan's Upper East Side complete with a stuffed whale penis and artifacts from legendary polar expeditions.
Here's the crux of the argument from the club's initial filing in March:
Diageo has intentionally embarked on a scheme to trade on the popularity, goodwill and reputation that The Explorers Club and its members have earned in the course of more than 100 years of exploring this world and beyond.
No Everest summits, no deal Diageo.
Diageo, meanwhile, argued that it wasn't aware of the nonprofit; it was simply invoking the 19th century travels of the Walker family as it peddled its booze around the world.
It's shocking that the two sides couldn't work out a deal. The Explorers Club takes in about $1.5 million a year, almost all which comes from membership dues and fundraising, according to its most recent federal tax filing. Diageo took in $16.7 billion last year and spent $2.6 billion on sales, marketing, and advertising.
The club isn't averse to selling its name. In the past it has cut licensing deals with Eddie Bauer, Land Rover, and Rolex, to name a few. Money aside, a steady stream of scotch shipments to the clubhouse might have been enough to lubricate a deal.
But the nonprofit, it turns out, had taken its own stab at the booze business. In 2011, it licensed its brand to Whyte & Mackay to launch a whisky blended to replicate the batch packed on a doomed expedition by Shackleton, a club member. The company launched the product at its New York headquarters. Happy times, toasts all around.
Here's where it gets interesting: Diageo launched its Explorers' Club Collection in late 2012 and bought White & Mackay's parent company a few months later. According to the club's filing, Diageo was benefiting from its intellectual property both illegally and legitimately, depending on which whisky one considered.
Nevertheless, the conglomerate soldiered on with its Explorers' Club booze, even going so far as to set up knockoffs of the club's headquarters in airport duty-free kiosks, according to the suit. The smoking gun, apparently, was a video supplied by a former club board member in which a retail salesman said the special Johnnie Walker booze was made at the club's New York headquarters—far from the peaty isles of Scotland where it's actually made.
The ruling against Diageo came out this week, but Judge Charles Ramos said in April that he was pretty much decided. At the time, Diageo trotted out a number of arguments, noting that plenty of businesses market themselves under the moniker Explorers Club, and detailing a survey of 800 people that found "less than one percent total confusion" between the nonprofit and the whisky.
Ramos, in turn, asked if Diageo was familiar with Google. Here's the critical verbal volley; it's enough to make a corporate attorney quiver:
Ramos: Other than the fact that Johnnie Walker seems to walk with large boots on, I'm not aware of him climbing Mount Everest. … Johnnie Walker as a product has no history of exploring; it's a bottle of booze.

Robert Raskopf (representing Diageo): Well, judge I think that is really–

Ramos: It's a product.

Raskopf: I don't really think that is fair.

Ramos: This whole thing is concocted by some advertising company.

Raskopf: That isn't true, Judge.

Ramos: Are there any Walkers left in the company that makes Johnnie Walker?

Raskopf:  It's a brand, Judge. It's a global brand.
Like Shackleton, Raskopf gamely trudged on with his arguments, but he never got anywhere. "I think this one is a slam-dunk," Ramos concluded.
Before it's here, it's on the Bloomberg Terminal.
LEARN MORE