Crew Tried to Avoid Thunderstorm Before Air Algérie Jet Crash
By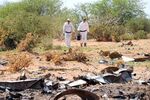 The crew on an Air Algérie flight that crashed in a remote area of southern Mali apparently tried to avoid a large thunderstorm directly in its flight path, according to a preliminary report on Thursday from the BEA, the French authorities assisting in the investigation of the fatal crash last month.
The cockpit voice recorder on the July 24 overnight flight wasn't working properly, complicating efforts to establish what happened to the plane, which disappeared from radar about 32 minutes after leaving Burkina Faso en route to Algiers. All 116 people aboard the U.S.-built MD-83 airplane were killed.

The flight reached its cruise altitude of 31,000 feet 22 minutes after departure and hit turbulence about two minutes later, when the jet's speed decreased, the BEA said. The plane turned left and began to quickly lose altitude. It crashed into the desert at a high speed; the violence of the impact suggests to investigators that the plane was intact before impact.
The voice recorder suffered a malfunction "with no link to the damage that resulted from the accident," the BEA said in a statement, rendering the recordings unintelligible. The agency says it's continuing efforts to extract data from the recorder and expects to release a further report on the inquiry in mid-September. About half the victims were from France. Six countries, including the U.S., are participating in the investigation.