Property Prices Are Up, Even Underground
A shortage of space makes burial in big cities more expensive
By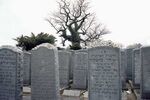 Even in death, you can't escape the property bubble. Every week, about 1,000 New Yorkers die. Manhattan is running out of room for them. Farther out in Brooklyn, plots are going for record prices. London costs are rising, and in Asian megacities, where cremation is the norm, space for urns is in short supply. "At the end of the day, it's like any other piece of real estate," says Amy Cunningham, a New York State licensed funeral director. "Prices have conspired to put burials out of the range of most people's budgets."
Leaving the five boroughs of New York City can cut the cost by 75 percent, Cunningham says. But not everyone is willing to do that. Former Mayor Ed Koch may be among the last New Yorkers to be buried in Manhattan. He paid Trinity Church Cemetery, overlooking the Hudson River at Broadway and 155th Street, $20,000 in 2008, five years before he died at the age of 88. "I don't want to leave Manhattan, even when I'm gone," Koch told the Associated Press at the time. "The thought of having to go to New Jersey was so distressing to me."

While Trinity no longer sells plots, New York Marble Cemetery in the East Village has a couple. The last interment there was in 1937, but two vaults that have been abandoned are now available, at $350,000 each.
Londoners don't own their final resting places. Burial plots, like most homes, are leaseholds. The City of London Cemetery, the capital's largest, sits on the edge of a former royal forest. A 100-year lease for a vault that now costs £28,120 ($47,475) will go for £30,370 next year, up 8 percent. In the borough of Lambeth, where the giant Ferris wheel known as the London Eye offers panoramic views of the city, a 50-year lease for a grave costs £7,306. That's up 11 percent from the 2011 price of £6,600.
To tackle the shortage in burial grounds, London passed a law in 2007 that allows authorities to dig up graves at least 75 years old to make way for new ones. The problem is, boroughs have been reluctant to use their powers, according to the Cemetery Research Group of the University of York.
The price of a spot at Verano, Rome's central cemetery, is about €24,000 ($32,090). Romans on a budget have to settle for a concrete niche, 10 rows up from the ground, for €320. Even those bargain accommodations aren't immune to market forces. The financially strapped city is seeking a 50 percent increase, the newspaper Il Messaggero reported on April 4.
Rising costs and shifting cultural and religious attitudes explain why cremations will become increasingly common, says Christopher Coutts, an associate professor of urban and regional planning at Florida State University in Tallahassee. In 1960 fewer than 4 percent of Americans chose ashes to ashes. Now it's 43 percent. That's still lower than London, where it's 70 percent, or Tokyo, where there's no alternative to cremation.
In Hong Kong, the wait time for a slot in a public columbarium—a building containing urns—can be as long as five years. Japan has mechanized facilities where families use a smart card to retrieve ashes from an underground vault housing thousands of urns. "You sit in a room, punch in your codes, and call up your remains," Coutts says.
The Gothic architecture and landscaped hills and lakes of Brooklyn's Green-Wood Cemetery echo the Frederick Law Olmsted-designed Prospect Park a mile away. A 756-square-foot mausoleum at Green-Wood costs $320,000, up from $300,000 in 2011. "It's supply and demand," says Richard Moylan, who's worked at the cemetery more than 40 years, initially as a teenager cutting grass, now as president. Green-Wood has 1,200 funerals a year, a 20 percent drop from a decade ago. In five years, it will run out of space. Rather than trying to squeeze more bodies in, he's counting on events such as LGBT-themed trolley tours—with a guide highlighting where famous gay people are buried—to supplement lost income. Green-Wood also offers outdoor yoga that integrates its "serene landscape" in a "subtle, thoughtful way," according to its website, followed by "a relaxing breakfast picnic."