pursuits
Brazilian Airline Azul Avoids Brazil's Busiest Route
Azul passes up São Paulo-Rio in favor of routes to second-tier cities
By and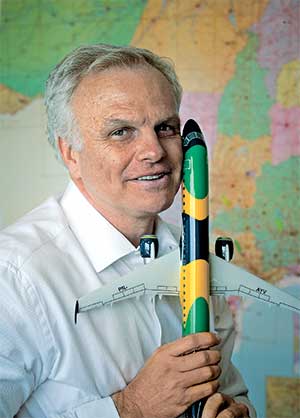 Ask David Neeleman, majority owner of Brazilian airline Azul and founder of JetBlue Airways, and he'll say Brazil's busiest route is just that: too busy. With more than 280 daily flights, the 45-minute trip between São Paulo and Rio de Janeiro is already the world's most-served route. But while aviation disrupters such as Richard Branson's Virgin Atlantic Airways grew by going wing-to-wing against incumbents between major cities, Neeleman says his Azul Linhas Aéreas Brasileiras will likely use slots it wins at São Paulo's domestic airport to strengthen its hold on small cities other airlines don't fly to.
The popular São Paulo-to-Rio de Janeiro run is dominated by rivals Gol Linhas Aéreas Inteligentes and Tam, which is controlled by Santiago-based Latam Airlines Group. Azul has been locked out of offering weekday flights to and from São Paulo's Congonhas airport until now. The government will soon award new takeoff and landing times, and Neeleman estimates Azul will get 14 to 16 slots a day, making it the biggest winner. Still, he says that's too few to make a big difference flying to Rio. "Do you want to go into a gunfight with a peashooter?" he asks. "If you only have 12 or 14 departures, 16 departures, whatever, it just doesn't give you enough."
Currently, Azul has only one slot per week at Congonhas, on Saturday afternoon, which it uses to fly to Rio. It would need many more on the route to threaten Tam's and Gol's dominance, says Raymond James Financial analyst Savanthi Syth. "There's going to be a little more overlap here in the domestic market," she says. The two leading carriers now have more than 200 Congonhas slots a day each. Avianca Brazil has 12 on weekdays.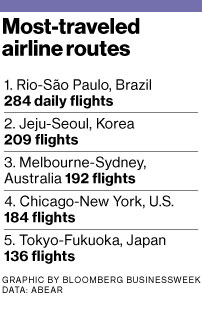 Nonetheless, six-year-old Azul—which means blue, a nod to Neeleman's first airline—has increased its share of Brazil's total air traffic to 18 percent, as measured by the number of paid passenger-kilometers flown, by positioning itself as Brazil's premier small-town carrier. Azul's fleet of commuter aircraft, produced by Embraer and ATR, is well-suited for such low-density service. It's also the only or dominant carrier in about three-quarters of the cities it serves, including Tabatinga, an isolated town on the Amazon.
Azul will benefit from the way Anac, Brazil's airline regulator, will allot new slots at Congonhas. They'll be roughly proportional to nationwide traffic share, with additions for airlines with more regional service and reductions for carriers with high numbers of delays or cancellations. Azul and Avianca will be the big winners, Civil Aviation Minister Wellington Moreira Franco says.
The Congonhas slots can help Azul strengthen its hold in midsize markets such as Cuiabá and Curitiba before a second change scheduled for March 2015, which will redistribute all existing slots based on each carrier's national and regional share of traffic. In July, Franco said the government will likely offer 1 billion reais ($438 million) in subsidies to entice airlines to expand flights to underserved regions. He says the reforms could help to double air travelers in Brazil to 200 million by 2020.
"Both Tam and Gol will likely lose slots, though Tam will lose the most," Franco says. Tam said in an e-mail that it "fully complies with all the rules necessary to maintain its concessions and maintenance of slots in Congonhas." Gol declined to comment during the quiet period prior to the release of its earnings.
Once details of the regional aviation plan are announced, Neeleman says, Azul can start service to six to eight new towns within a year. "We're in the best position, simply because we have the right aircraft type," he says. "We know how to operate in small cities."
Before it's here, it's on the Bloomberg Terminal.
LEARN MORE