Banco Espirito Santo Episode Was Contained Swiftly, Draghi Says
Anabela Reis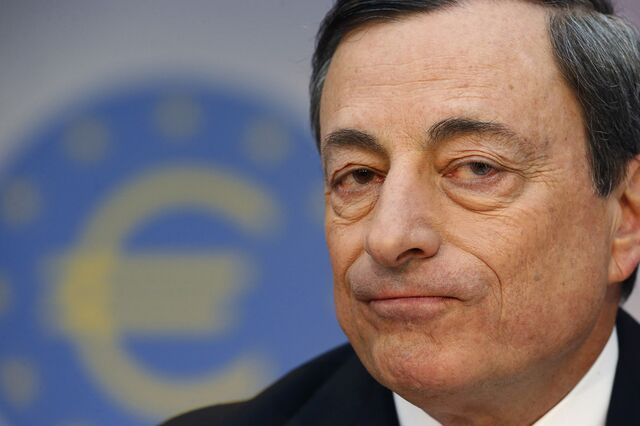 The crisis surrounding Portugal's Banco Espirito Santo SA that led to the rescue of the lender by the country's central bank was contained swiftly, European Central Bank President Mario Draghi said.
"What could have been a systemic incident is actually now considered an incident, episode, which is restricted to this bank and to the owners of this bank," Draghi said in Frankfurt today. It "affected neither the banking sector in Portugal, nor Portugal at large, nor other markets" elsewhere, he said.
Portuguese bonds rose after the bailout of Banco Espirito Santo, once the country's largest lender by market value, was announced earlier this week. The Bank of Portugal's 4.9 billion-euro ($6.6 billion) bailout will leave shareholders and junior bondholders with losses, while sparing senior creditors and unsecured depositors.
The "Portuguese authorities took swift action" in a situation that "could be potentially complex," Draghi said. The "market reaction both in Portugal and out of Portugal basically confirmed this view," he said.
The bank was split in two, with depositors and healthy assets being moved to the newly created Novo Banco, while bad loans and junior creditors stay with the old bank until it can be shut down.
The country's fledgling bank resolution fund, financed under normal conditions by all lenders operating in Portugal, will get a 4.4 billion-euro loan from the government to finance its investment in Novo Banco and will be repaid by proceeds from its sale, which Draghi today said will "hopefully" happen soon.
Oversight Regime
Banco Espirito Santo's rescue takes place during the transition to a new oversight regime. The EU has tightened its rules on how banks can receive state aid, and the Frankfurt-based ECB has begun its assessment of the balance sheets of the bloc's largest banks, including an asset quality review, before it takes over direct supervision of about 120 banks in November. In 2016 a tougher set of bail-in rules will start for creditors of failing banks.
"This is the major episode, but we've seen other minor episodes of dramatic changes in the corporate structure of banks since our AQR effort was launched," Draghi said. "We've seen many banks raising significant amounts of capital in the last year and I think that is a very important element that should not be underestimated because it's so crucial to repairing the bank lending channel in the euro area."
Before it's here, it's on the Bloomberg Terminal.
LEARN MORE