Paul Singer Will Make Argentina Pay
In Buenos Aires, Paul Singer is a vulture. On Wall Street, he's a freedom fighter
By and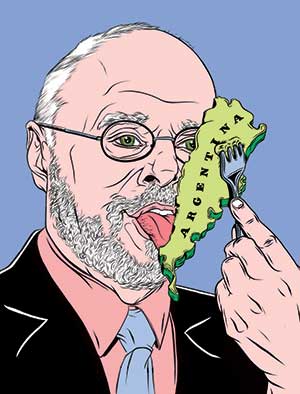 After Argentina's July win in the semifinals of the World Cup, fans jumped for joy across the country and climbed wobbly stoplights to belt out patriotic songs. On the streets of at least one city, Rosario, Argentina's third-largest, they also took the opportunity to taunt a U.S. hedge fund manager. Dancing around the National Flag Memorial, they sang a song in Spanish that more or less followed the tune of Bonnie Tyler's It's a Heartache. "F–‍–‍–ing vulture funds," they chanted, in rough translation, "stop messing around and agree to a swap."
They would not be satisfied, in soccer or in finance. Weeks after the Argentine team was shut out in the World Cup final, talks in Manhattan broke down between Argentina and some of its creditors, the most important a group of hedge funds led by billionaire Paul Singer. On July 30, when a last-ditch workaround failed and the deadline for interest payments of $539 million passed, Argentina went into default for the second time in 13 years.
How does a New Yorker help tip over the second-largest economy in South America a few weeks before his 70th birthday? By being stubborn, self-righteous, clever, and willing to take his decade-long fight against the country to a Las Vegas court, a Ghanaian seaport, weapons warehouses in Maryland, and at least two rocket launches.
Most bondholders from the last Argentine crisis, in 2001, agreed to accept about a third of what they were owed and move on when the country renegotiated its debt and traded new bonds for the old ones. Singer, whose Elliott Management oversees $24.8 billion, wanted more. He went all the way to the U.S. Supreme Court to make sure bondholders who compromised can't get paid until he does, and his victory there in June meant the country would default unless it surrendered to him. Argentina said its hands were tied, and it simply couldn't sweeten Singer's deal. It defaulted.
For a debt negotiation, the July meetings were almost cinematic. On the other side of the table, facing the hedge funds, was Argentina's economy minister, Axel Kicillof, known for his pointy sideburns and scholarship on Marxism, who was born two years after Singer graduated from Harvard Law School in 1969. Kicillof, whom BuzzFeed called "gorgeous" this year, explained in a press conference after the talks failed that he wouldn't be extorted into a deal with a vulture. Other officials have called Singer's fund "scum."
Singer, according to interviews with his colleagues, characterizes the case as a fight against charlatans who refuse to play by the market's rules. He's owed, he has the right to be paid, and for that he's the bad guy? He can hardly believe it. "When he sees an opportunity, he'll seize it," says Ralph DellaCamera, who worked for Singer from 1986 to 1999, becoming his head trader. "I love it when he wins, because it just validates who he is as a person. He's a fighter. He's not going to give up. And he's not a villain: He's a hard-nosed businessman, that's it, and he sticks up for what he thinks is right. More people should do that."
The court-appointed mediator, Daniel Pollack, said default is a real and painful event that hurts real citizens. This one hurts for a second reason: Argentina could afford the interest payments to other bondholders, and it has tried to pay. But the $539 million just can't get delivered. When it issued the debt that Singer holds, it agreed to submit itself to U.S. law. No one gets paid until Singer and the other holdouts receive the $1.5 billion they want.
 
 
An earlier success may have emboldened Singer. He spent about $11 million on government-backed Peruvian bank debt in 1996, and Peru agreed in 2000 to pay him $58 million. That meant he got better than a 400 percent return. All it took was trips to court in the U.S., U.K., Luxembourg, Belgium, Germany, and Canada.
"He finds a country in distress, he buys its debt, he demands full payment, and he doesn't care about the economics, the poverty, the circumstances of the country," says Mark Cymrot, who represented Peru and is head of BakerHostetler's international disputes group. "From his point of view, he would say, 'What's wrong with it?' And you'd have to say he's right. But I wouldn't want to earn money that way myself."
Singer began buying bonds before Argentina's record $95 billion default in 2001. A string of five presidents in two weeks, an historic recession, and violence that killed at least 27 people didn't turn him off. He kept buying defaulted debt at a deep discount. When most of Argentina's creditors accepted strict offers in 2005 and 2010 to swap their bonds for about 30¢ on the dollar, Singer wasn't among them. Instead, he won court claims to at least $1.7 billion from the country and embarked on a global quest to collect.
The voyage has been action-packed, though with a lot of legal consultants and arcane applications of little-known legal terms. In 2004, NML Capital, a Singer subsidiary based in the Cayman Islands, persuaded a judge to bar Argentina from selling four military warehouses it owned off a parkway in Maryland, freezing $3 million in buildings, motors, weapons, and a plane, according to an Argentine defense ministry spokesman. A lawyer for NML modestly said at the time that the order covered only real estate.
Singer managed to briefly seize an Argentine naval vessel in Ghana in 2012. After the three-mast training frigate was evacuated, the International Tribunal for the Law of the Sea ordered it freed. The frigate sailed off. President Cristina Fernández de Kirchner told her country that the vulture funds could try to take their boat, which happens to be named the ARA Libertad, but they wouldn't touch Argentina's "freedom, sovereignty, or dignity."
Other creditors followed Singer's example. In 2013, Fernández spent $880,000 to rent a jet after another group tried to ground Tango 01, the Argentine version of Air Force One, during a maintenance trip to the U.S. Even book fairs weren't safe. The Wall Street Journal reported that Argentina's National Museum of Fine Arts would keep artworks out of the 2010 Frankfurt Book Fair to stop creditors from snatching them.
This year, Singer tried to track down government funds allegedly funneled out of Argentina and into Nevada by an Argentine businessman accused of embezzling $65 million. He sued fellow billionaire Elon Musk's Space Exploration Technologies, known as SpaceX, hoping to take over the rights to two satellite-launch contracts Argentina had bought, valued at $56.5 million each. (SpaceX filed a motion to dismiss the suit.)
Argentina is in a difficult position. Until it pays Elliott Management and the other hedge funds, which include former Elliott employee Mark Brodsky's Aurelius Capital Management, it essentially will remain isolated from international capital markets. Unable to borrow abroad cheaply since the last default, the country has seen its foreign reserves hover near an eight-year low. It's said it can't boost its offer to Singer and his peers because the nation would be legally bound to do the same for the 93 percent of investors who agreed to the earlier compromises. It can't afford that. Kicillof has said Singer still would make a 300 percent return if he agreed to accept the deal others took.
 
 
DellaCamera, Singer's former head trader, recalls his boss hamming it up at parties by playing piano—favoring standards, classical, and New Orleans R&B by the Neville Brothers—but he remembers still more about their weekly portfolio reviews. "We'd go through every single position we had, religiously," he says. They'd do it at the office or Singer's home, where his cook would prepare dinner for colleagues. "He didn't want surprises. And when he felt there was a surprise, he would get upset," DellaCamera says. "You're into position five, two hours into this meeting, and you're tired a little bit, and it's going well, he's not yelling at you, so you're feeling good. And you get to the position, and let's say it's an investment in a gold mine in Peru or whatever the hell it is." Singer might stop and remember a detail about mine work that was supposed to have begun. "This is an insignificant mine, and you're trying to tell him that, but you don't want to tell him that. Once you know you're digging yourself in a hole, he just pounces on you. Oh, God. And that's when he gets angry. Because in his mind, it's all about the basics," DellaCamera says. "He wouldn't throw things, but he would yell. 'How could you miss this?' He would make you feel very uncomfortable."
Singer wouldn't comment for this story. When he gave Bloomberg News an interview in 2008, he wouldn't say where exactly in the New York metropolitan area he was raised. After law school he spent four years at corporate law firms in New York and three as an attorney in Donaldson, Lufkin & Jenrette's real estate unit. He left to start Elliott—Elliott is his middle name—with $1.3 million from family and friends. His oldest fund has delivered compounded annual returns of about 14 percent.
The photo of Singer accompanying that article, more than 30 years after he launched his company, was the first he'd ever agreed to sit for. It's difficult to find photos of him smiling. In two pictures online where he appears to be giving a half-grin, his lips are actually turned down. His chroniclers have had a hard time describing him: "With his trim white beard, wire-rimmed spectacles, and erudite demeanor, Singer could pass for a college professor," one profile declared. "With his trimmed white beard and rounded metal spectacles, Paul Singer might come across as a slightly miffed professor," a newspaper said. "With his trimmed white beard and rounded glasses, the 69-year-old could pass for a professor," another said. One writer has compared him to the minimalist composer John Adams. If you squint, Singer looks like a bald Wolf Blitzer delivering bad news—but with pinker cheeks and before the anchor got his thick black hipster glasses.
In letters to his investors, Singer has cast a wide net of disapproval. "Resentment is not morally superior to earning money," he explained about rising anger at the 1 Percent. The Federal Reserve, he wrote elsewhere, is "a group of inbred academics" who have "lost any semblance, any wispy remnant of humility." The U.S. and Europe are "headed for mass poverty and degradation of freedom." Regulators "are quite sure to embarrass themselves again soon." The government confiscating property "is not out of the realm of possibility." Society itself might be undermined, he wrote this year, by a nation "disdaining the rule of law and paying whatever it wants to pay."
A person who worked on Argentina at Elliott says the firm thinks the country has abandoned the market's guidelines, turning a debt into an anti-American political ploy and playing a game of brinkmanship. The person, who asked for anonymity because of Singer's penchant for privacy, says Elliott sees the saga as a fight between mercy and justice, with the Argentines begging for amnesty and Singer wanting to uphold his lawful rights. He adds that the hedge fund thought one of its people was possibly being followed by an Argentine agent or lawyer.
A current colleague, who also would only speak about the case anonymously, says it's simply an issue of free markets. Singer believes contracts must be respected and laws enforced, the colleague says, and has the resources to try to see that they are. He has dug in deep, and he wants to win.
"My guess is, he thought Argentina would never allow the technical default to happen, it would be too debilitating for the entire country," says hedge fund manager J. Kyle Bass, whose Dallas-based Hayman Capital Management bought Argentine bonds last year. "The bottom line is, he's a tremendous distressed investor. And he's a profiteer at other people's expense."
David Skeel, who studies bankruptcy at the University of Pennsylvania Law School, says "a fair amount of Singer's activities with developing-country debt have been immoral—trolling for claims and then pushing them to the hilt—but it's hard to feel too sorry for Argentina." Skeel says the Argentines are periodically coercive, stubborn, and biased. Harvard Business School's Noel Maurer reverses that. He supports some of the fund's previous battles—especially against the Republic of the Congo—but sides with Argentina this time, saying Singer has "picked the wrong battle, if you're on a moral mission."
All battles eventually end. This one has many different options for its grand finale, including an outsider saving the day by taking the debt off Singer's hands. JPMorgan Chase has been part of a group of big banks holding talks with Elliott, a person with knowledge of the discussions says. If the hedge funds' own talks with Argentina progress, they could ask a U.S. judge to delay implementation of the ruling that blocks the country from paying others, allowing that $539 million interest payment to go through. The bondholders who have already compromised could waive the clause that keeps Argentina from offering holdouts a better deal. Or maybe everyone will sit tight until next year when that clause expires, and room for negotiation expands.
In a recent letter, Singer professed astonishment that the saga has attracted so much attention. When the Argentine rulings and judgments are cobbled together, the whole thing adds up to about a tenth of Elliott Management's $24.8 billion. He has larger concerns on his mind. An electromagnetic pulse that could massively disrupt the grid is "one risk that is head-and-shoulders above all the rest," a recent letter to investors warned. He appears to have a vision of himself as not only a toppler of nations, but also a master of the universe in the most cosmic sense: Citing a solar disturbance two years before the American Civil War, named the Carrington Event, he called for a "bipartisan push to make the country (and the world) safer" from the perils of the solar system.
 
 
Bipartisanship wasn't in the air at a May dinner in Midtown when Singer delivered a speech at the annual gala for the Manhattan Institute for Policy Research, a think tank that promotes "economic choice" and "individual responsibility." Singer is chairman of a board that includes fellow hedge fund billionaire Daniel Loeb and Elliott colleague Jay Newman, who helps oversee the Argentina investment. Standing in a ballroom originally built as a bank, Singer complained about "the rhetoric surrounding the issue of income inequality becoming increasingly demagogic." In the audience were two of the evening's honorees, Paul Ryan and Jeb Bush, both potential 2016 Republican presidential candidates.
Singer has given at least $1 million each to the Republican Governors Association, a political action committee for Mitt Romney, and another PAC affiliated with strategist Karl Rove. Among his larger concerns are intrusions on freedom. Even one group that looks like a glaring exception to his tuxedoed conservatism, American Unity, his PAC advocating for gay rights, supports "pro-freedom Republicans." It aims to spread "freedom for all Americans," including his son, a doctor. The two appeared on a panel this year featuring finance executives and their openly gay sons.
The Manhattan Institute, noted Singer, is "home for those who have the courage to say what is right and stick with their views, no matter how intense the pressure to conform to a comforting-yet-false consensus." He promised its members will "do what we can to preserve—to prevent—New York City from becoming, say, New Havana."
His earlier Institute talks were also short, sharp, and infused with animus toward the federal government. "Individual liberty, the basic underpinning of American society, requires constant defense against the encroachment of the state," he said at a November 2011 talk, quoting Citibank's late chief executive officer, Walter Wriston. At the time, Occupy Wall Street protesters were still camped downtown in Zuccotti Park. Singer, standing in black tie in front of a gold-tasseled curtain, called them "aging hippies, anticapitalists, and anti-Semites," and "people desperately in need of potty training." The crowd clapped, but he didn't smile.
Maybe he smiles inside. There are signs now and then that he might enjoy a kind of humor. At this year's World Cup, according to a colleague, as the Argentine national team made its glorious push and its country teetered toward default, Singer was there, in the stadium. He was wearing an Argentina jersey.
Before it's here, it's on the Bloomberg Terminal.
LEARN MORE