Argentina's Wall Street Fixers Joined by Deutsche Bank for Talks
Camila Russo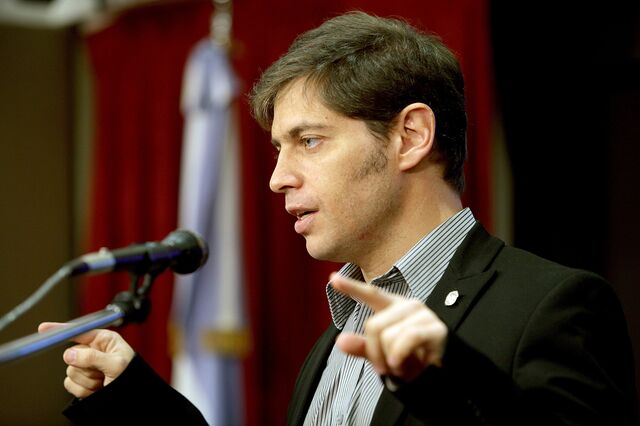 Deutsche Bank AG joined JPMorgan Chase & Co., Citigroup Inc. and HSBC Holdings Plc in talks with Argentina's holdout creditors to seek an agreement that would allow the country to resume paying its bonds, according to a person briefed on the meetings.
Deutsche Bank joined an Aug. 1 meeting between the banks and hedge funds including Elliott Management Corp. that won a U.S. court order for full repayment on debt from Argentina's 2001 default, said the person, who asked not to be identified because the talks are private. Banks are proposing to buy at least a portion of the defaulted bonds, he said.
A U.S. court ruling requires the government to pay the holdout creditors about $1.5 billion or reach a settlement before it can make interest payments on bonds issued in restructurings in 2005 and 2010. The country missed a July 30 deadline to make a payment on its notes due 2033, prompting Standard & Poor's to rule it in default on $29 billion of foreign bonds. The 2033 notes yesterday posted their first gain since July 30 on speculation the dispute will be resolved.
"The market is optimistic that the banks and the hedge funds will reach some type of private agreement," Ray Zucaro, who helps manage $390 million of emerging-market assets at SW Asset Management LLC, said by phone from Newport Beach, California.
Not 'Opposed'
Elliott's NML unit declined to comment. Lyssette Bravo, a spokeswoman for HSBC in Mexico, declined to comment. Danielle Romero-Apsilos, a Citigroup spokeswoman, declined to comment, as did Ari Cohen, a spokesman for Deutsche Bank in New York, and Brian Marchiony, a JPMorgan spokesman.
Economy Minister Axel Kicillof has said the government wouldn't oppose a third-party solution to its dispute with a group of hedge funds.
The 2033 bonds rose 2.1 cents on the dollar to 84 cents at 1:11 p.m. New York time, according to data compiled by Bloomberg. They're still down 13 percent since July 30.
While talks between Argentine officials and the holdouts broke down last week, triggering a second default in 13 years, Reuters cited yesterday anonymous sources in reporting that international banks may come to an agreement with the holdouts as soon as next week to purchase their securities.
Waive Clause
So far they've been unable to agree on a price for the defaulted paper, Reuters said.
Argentina filed an application to start proceedings against the U.S., saying court decisions on Argentine debt restructuring violated its sovereignty, the International Court of Justice said in an e-mailed statement today.
Separately, a group of creditors holding 7 billion euros ($9.3 billion) of Argentina's restructured bonds are planning in coming weeks to initiate a consent solicitation to waive a clause in their securities that the nation said prevented a resolution with the holdouts. The clause prohibits the government from voluntarily offering the holdouts a better deal than the one extended in the exchanges without also improving the terms for the restructured bondholders.
The group holds about 40 percent of the about $23 billion of notes with the clause, according to Christopher Clark, an attorney for the group. Changing the terms of the restructured notes to eliminate the clause would require approval by owners of at least 85 percent of all affected bonds, or about $19 billion, he said yesterday.
Yesterday, Bank of New York Mellon Corp. was ordered to retain a $539 million payment on Argentine bonds that a U.S. judge deemed illegal until he rules otherwise. The bank had argued it will be exposed to lawsuits if it returns the money to the country. BNY Mellon, which acts as trustee for holders of the restructured debt, asked U.S. District Judge Thomas Griesa in Manhattan what it should do with the June 26 payment, which the nation made to BNY Mellon accounts at the Central Bank of Argentina.
Before it's here, it's on the Bloomberg Terminal.
LEARN MORE