Sprint Admits Defeat on T-Mobile Deal
By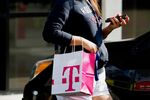 The potential merger between Sprint and T-Mobile has faced an uphill battle for months, given U.S. regulators' preference for a mobile market with no less than four major players. Now the companies appear to have given up. On Tuesday night the Wall Street Journal reported that Sprint is dropping its bid for T-Mobile. Dan Hesse, the company's chief executive officer, has stepped down and board member Marcelo Claure has taken his place.
If this deal was doomed from the start, it's probably better for both companies that Sprint cut bait. A time-consuming regulatory battle would have kept them in limbo, and failure might have delayed the wireless industry consolidation both companies clearly want. As they turn back to business, T-Mobile faces a much easier time.
T-Mobile's recent success has seemed a strong argument against a merger. It has been poaching customers from competitors for over a year. The industry has responded by reassessing the structure of deals with consumers. Even as rival major carriers have loosened requirements on contracts and experimented with lower-cost plans, T-Mobile added 579,000 monthly phone subscribers during the last quarter. So analysts have been demanding to know why T-Mobile would want to sell to Sprint.
T-Mobile CEO John Legere has repeatedly said that consolidation is eventually good for the industry: AT&T and Verizon are just too big to compete against in the long term. Last week he told investors that T-Mobile would have various opportunities to pursue deals, however. Hours later, Iliad, a French telecom, offered to pay $15 billion for the company, an offer T-Mobile plans to turn down. Next up may be Dish Network and Charlie Ergen, who showed interest in T-Mobile before Sprint launched its bid.
As for Sprint, "no one really talks about a stand-alone bull case for Sprint anymore," industry analyst Craig Moffett wrote last week. While Sprint had its first profitable quarter in over six years, the company is still in the worst shape of the major U.S. wireless companies. It is in the midst of putting together a nationwide LTE network needed to attract customers willing to pay bigger bills. Technology hurdles include that the company's spectrum range has been patched together across different bands. And Sprint faces quality concerns. The task isn't hopeless, just hard, says Scott Dinsdale of KDP Advisors. "We think this business has the scale required, and the new network will help, so we think it can only improve over time," he wrote recently. Still, Dinsdale is concerned about the amount of money Sprint must spend to get there.