Six Best Dry Shampoos
Over a humid, hairstyle-killing July week, we tested 20 dry shampoos. Here are the winners
Dry shampoo, a powder or spray that absorbs oil, is meant for use between washings. It freshens style and adds volume. But don't use it two days in a row, as it will lose effectiveness. Dry shampoo works for men, too, and for women with shorter hair. Just run your fingers through afterward to make sure there's no visible power. Hold the can 10 inches away from your head for best distribution. Flip hair over and spray on the roots. Brush through, and then do a few allover sprays for texture.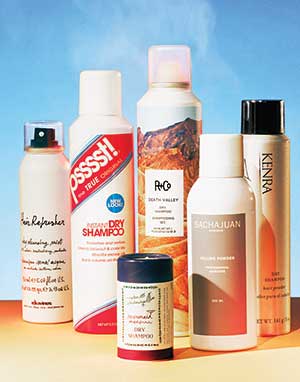 1. Davines Hair Refresher Dry Cleansing Mist
This formula has a clean, laundrylike scent and gives roots a subtle boost. It's best for after a workout—but not strong enough for a morning of not showering. The spray contains rice starch to absorb oil, which it does efficiently. $28
2. Psssst! Instant Dry Shampoo
Cheap but surprisingly great. The scent is light and fades quickly, and hair holds volume for almost the entire day. Make sure to comb through, as the product may leave some white residue on darker hair. $6.99
3. Captain Blankenship Mermaid Dry Shampoo Powder
This little salt-shaker-like tube is powder only—no spray—so it's good for those who avoid aerosols. It has a citrusy, unisex scent and does a good job absorbing oil (no height added). $24
4. R+Co Death Valley Dry Shampoo
The pretty packaging and beachy scent (which the company describes as a "mix of bergamot, wild fig, cedar wood, and tonka bean," whatever that is) are the main draw. Stay for the impressive messy mane. $29
5. Sachajuan Volume Powder
If you need full volume—like, tons of it—this is the stuff for you. Spray all over and get a matte finish and lots of body. The scent is slightly department-store perfume section. The other drawback is that hair feels a bit crunchy. $32
6. Kenra Platinum Dry Shampoo
Best if your hair is superoily, it makes post-workout hair look much cleaner but doesn't add too much lift. The product is pleasant going on, with an appealing coconut-vanilla aroma that doesn't last too long. Definitely brush through to get rid of any lingering powder. $22
Before it's here, it's on the Bloomberg Terminal.
LEARN MORE