Sensex Net Tripling as Rates Fall Keeps Reliance Bullish
Rajhkumar K Shaaw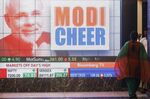 Earnings at India's biggest companies will almost triple in the next five years as borrowing costs fall and sales growth quickens, according to Reliance Capital Asset Management Ltd.
Per-share profits in the S&P BSE Sensex index will climb to 4,000 rupees by March 2020 from 1,525 rupees this fiscal year, said Sunil Singhania, whose Reliance Growth Fund beat 89 percent of peers in the past year and returned more than twice as much as the Sensex in the last 15 years. That would leave the gauge trading at about 72,000, or 181 percent above today's close, assuming the index is valued at its five-year average level of 18 times earnings, data compiled by Bloomberg show.
Foreign money managers poured $11.7 billion into Indian shares this year amid expectations the biggest electoral victory in three decades by Prime Minister Narendra Modi will help boost economic growth from a decade low. While the Sensex has climbed 21 percent for the best performance among the world's 10 biggest markets, investors are still underestimating the potential for lower interest rates and higher profits, Singhania said.
"The biggest surprise will be the earnings," Singhania, the head of equities at Reliance, India's third-biggest money manager with $19 billion of assets, said in an interview at his Mumbai office on Aug. 4. "With a little bit of luck there might be a gap up" in profits, he said.
Monsoon Outlook
The Reliance Growth Fund returned 26 percent annually in the 15-year period through July 31, compared with a 12 percent gain in the Sensex, data compiled by Bloomberg show.
Indian companies are sitting on idle capacity, giving them scope to boost production without a big increase in capital spending, while falling oil prices and easing concern over a weak monsoon will curb inflation, Singhania said. India's central bank left interest rates unchanged for a third straight meeting yesterday.
Inflows into the stock market may slow as the nation's economy recovers more slowly than some investors anticipate, according to F&C Asset Management Plc. Foreigners pulled a net $479 million in the three days through Aug. 1, data from the market regulator show.
Economic recovery is "going to take several quarters, it's not going to be overnight," Sam Mahtani, a London-based director of emerging markets at F&C Asset, which oversees about $150 billion, said in an interview with Bloomberg TV India on Aug. 4. "There could be some tapering of the flows."
Earnings Surprise
Indian companies are ready to meet demand from an accelerating economy after building up capacity during the country's economic boom in 2007 and 2008, according to Singhania, who didn't provide a price target for the Sensex. The gauge fell 0.9 percent to 25,665.27 at the close in Mumbai.
Carmakers are running near 55 percent of peak capacity on average, according to calculations by New Delhi-based Emerging Markets Automotive Advisors. More than 80 percent of capacity at Titagarh Wagons Ltd., a maker of railroad cars, was idle last year, chairman J.P. Chowdhary said last month. India has 7.23 gigawatts of unused power generation capacity due to a coal shortage, Coal & Power Minister Piyush Goyal said in parliament on July 24.
Indian companies "built up capacity, built up cost but the revenues did not come about," Singhania said. "And now we have to see when the revenues can come. As that starts happening, then the earnings trajectory can really surprise."
Rates Wagers
Fifty-three percent of the 17 Sensex companies that announced results so far for the June quarter have beaten or matched forecasts, versus 60 percent in the March quarter, data compiled by Bloomberg show.
India's finance ministry predicts economic growth will quicken to 5.9 percent in the fiscal year through March 2015 from 4.7 percent the previous period. The $1.88 trillion economy expanded 4.5 percent in 2012-2013, the slowest pace in a decade.
Passenger vehicle sales rose 11.2 percent in June from a year earlier, the second month of recovery after the first annual decline in a decade. A private gauge of manufacturing rose to 53 in July, highest since February 2013.
India's central bank will probably cut interest rates by December, Singhania said. His outlook contrasts with predictions from all 10 analysts surveyed by Bloomberg News yesterday that rates will remain unchanged through 2014.
India's monsoon, which accounts for more than 70 percent of annual rainfall and waters about half of India's farmlands, has narrowed its shortfall versus the 50-year average to 19 percent as of yesterday from 43 percent at the end of June, according to the weather office. Brent crude dropped 5.6 percent in July, halting three months of gains.
"There is a consensus view that the market may not do anything for the next six to eight months," said Singhania, who is positive on drugmakers, private-sector lenders, cement makers and industrial companies with low debt levels. "There we might be in for a surprise."
Before it's here, it's on the Bloomberg Terminal.
LEARN MORE